A flurry of employers have informed the state of layoffs in recent days.
The Colorado Department of Labor and Employment on Wednesday updated a list it maintains of notices employers send it in an effort to comply with the federal Worker Adjustment and Retraining Notification Act. The law requires large employers to provide advance notice of layoffs in many circumstances.
Between March 17 and Monday, 12 employers submitted a notice of layoffs to the state, the list shows.
That contrasts with the entire month of February, when two employers submitted notices. In January, nine employers did so.
The employers that have submitted notices since March 17 include:
ClearChoice Management Services: The Greenwood Village-based company, which oversees a chain of dental treatment centers, told the state it has permanently laid off about 95 employees, and furloughed another 25. The company said it hopes the furloughed employees can return to active status within six months.
Trans State Airlines: The Missouri-based company, which operates United Express flights for United Airlines, said it is laying off 329 employees in Colorado by April 2.
Punch Bowl Social: The Denver-based company that operates hybrid restaurant-entertainment centers said it laid off 93 employees at its Broadway location in Denver.
Layoffs in the state undoubtedly go far beyond the numbers and employers included in the state's list.
For starters, the federal law generally applies to companies with 100 or more workers, meaning smaller businesses aren't required to submit a notice. A department spokesman told a media outlet in 2016 that the department lacks the authority to enforce the law. 
Stay-at-home order goes statewide: Gov. Jared Polis on Wednesday ordered all Colorado residents to stay home, starting at 6 a.m. Thursday and extending through April 11. Denver residents were already ordered to stay home by Mayor Michael Hancock as of 5 p.m. Tuesday.
Restaurant resource: Visit Denver, Eat Denver, the Colorado Restaurant Association and Boulder Convention & Visitors Bureau launched ToGoDenver.com, a resource listing area restaurants open for takeout and delivery. 
Natural Grocers: The Lakewood-based grocer said it has provided a $2-per-hour pay increase effective March 23. $1 per hour will be permanent and $1 per hour will be temporary through May 3.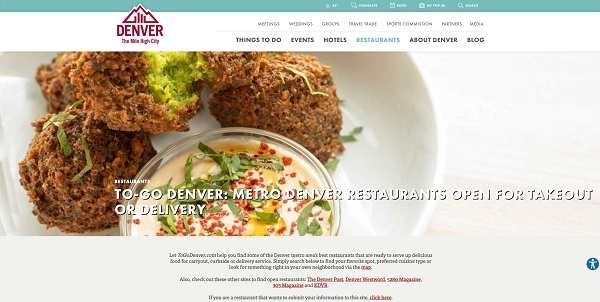 40563