One of the smaller projects near RiNo's 38th and Blake rail station is coming into focus.
A three-story building with a rooftop deck is being constructed at 3501 Blake St., a parcel that backs up to the railroad tracks and sits adjacent to one of the two pedestrian bridges connecting the two sides of RiNo.
The project, which will have retail space on the ground floor and office space above, is being developed by Blake Street Mine LLC, an entity that consists of David Leuthold and one investor. Leuthold is a principal at Denver brokerage Leuthold Commercial Properties.
Two autism-related organizations will take the building's second-floor office space, Leuthold said.
The first, Revel, is a nonprofit with a focus on creating an accepting community for teens and adults with autism spectrum disorder to connect, work, learn, live and explore new interests together with their peers. The second, Thrive Autism Collaborative, describes itself as a multi-disciplinary group of autism professionals providing therapy as well as consultation and training to schools and other agencies.
Below are photos of the project taken this week, as well as two project renderings.
Developer: Blake Street Mine LLC, which purchased the land for $2.8 million in 2017
Specs: The building will have about 8,000 square feet of ground-floor retail space, designed to be broken into three to five units. Leuthold said he hopes to attract a restaurant, and thinks a coffee shop would be a natural fit for a unit at the base of the pedestrian bridge. The rear of the first floor will have some parking spaces.
The building will have about 32,000 square feet of office space — 16,000 square feet on each of the second and third floors. There is also a rooftop deck.
Architect: Sprocket Design
General contractor: PCL Construction
Office tenants: Revel and Thrive Autism Collaborative are taking the building's second floor. The third floor is not yet leased.
Retail tenants: No leases have been signed
Retail and office leasing broker: David Leuthold, Leuthold Commercial Properties
Groundbreaking: May 2019
Completion: The core and shell of the building are expected to be completed in mid-May. Tenant finish work will begin at that point.
Nearby: The area around the 38th and Blake rail station is Denver's preeminent development hot spot, with numerous projects in the works. Within a block of 3501 Blake, Beacon Capital Partners is wrapping up work on the Hub North office project, and Hines/McCaffery/Ivanhoe Cambridge are beginning work on its T3 office building.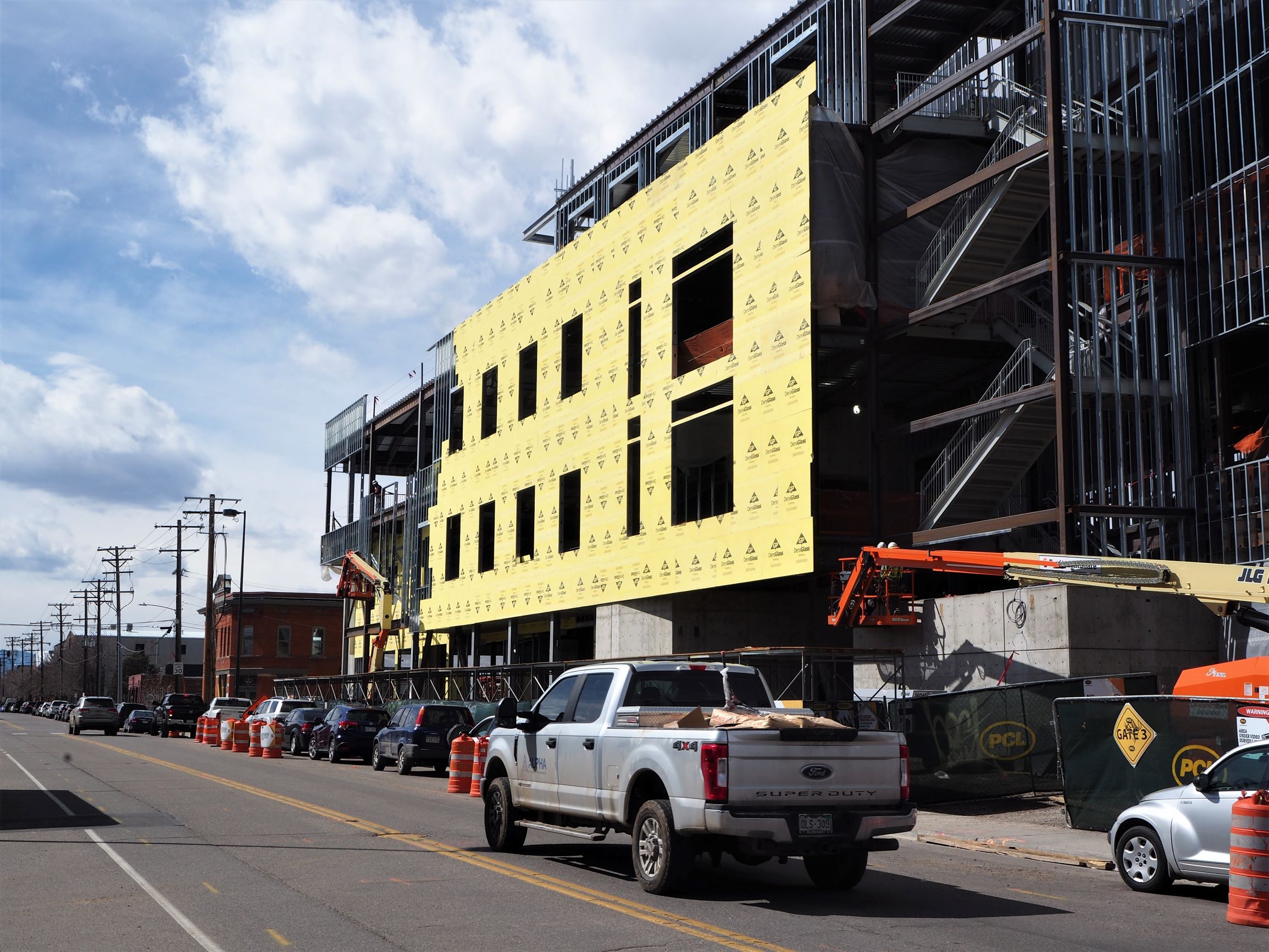 40429