When Elizabeth Fuqua learned she was pregnant in summer 2018, she and her husband knew they needed to move from their one-bedroom apartment in the Highlands.
"We were pretty discouraged by the rental prices and came across a Loftium house on Craigslist," Fuqua said.
Loftium, which raised $15 million last year, is a Seattle startup that rents a house from an owner and then subleases part of it to a subtenant if they help manage an Airbnb elsewhere on the property.
Fuqua landed in a 2,300-square-foot home that Loftium leases near the University of Denver in October 2018, paying $1,400 per month. She has access to the backyard, garage, a kitchen, office, living room, one bathroom and two bedrooms.
The remaining 800 square feet, which has a separate entrance and no kitchen, is used as a short-term rental. The short-term rental sleeps six people and is booked 85 percent of the time, Fuqua said.
The unit rents for $50 to $150 per night, Fuqua said.
Fuqua said Loftium manages the short-term rental but she is responsible for cleaning it. And she's doing turnovers, laundry included, two to three times per week.
Loftium was founded in 2017 and launched in Denver in August 2018. CEO Yifan Zhang, 31, said the company now leases 200 properties in the metro area, which accounts for one-third of the company's total count.
"We chose Denver as a nearby urban market with similar dynamics to Seattle — size, density, tourism — and so far, it's been similarly successful," Zhang said.
"Denver, at this point, is our fastest-growing market."
Zhang said Loftium has 50 employees, with two in Denver. Besides Denver and its home base of Seattle, the company also has properties in Portland, San Diego, Chicago, Dallas, Atlanta, Orlando, Phoenix and Charlotte.
Zhang, a 2010 graduate of Harvard, said her goal is to have 1,500 homes in the company's portfolio by year-end.
"Typically we're taking these single-family homes that rent for $3,000 a month or more and are turning them around to $1,500 or $1,800 (for the long-term tenant)," Zhang said.
Loftium has strict guidelines for properties. A home in Denver must have at least two bedrooms and two bathrooms, with a separate entrance and space that can be rented out, Zhang said. The short-term rentals are marketed on Airbnb.
Loftium makes its money from short-term rentals. The company pays out the landlord at market rent with a long-term lease — up to three years — and keeps the excess income from the short-term rentals as a profit.
The average revenue from Airbnb rentals in Denver is $900 to $2,400 per month per property, Zhang said.
City regulations state that short-term rental licenses can be given only to those who rented out their "primary residence." Zhang said Loftium is in compliance with the law because a long-term renter is living at the property full time.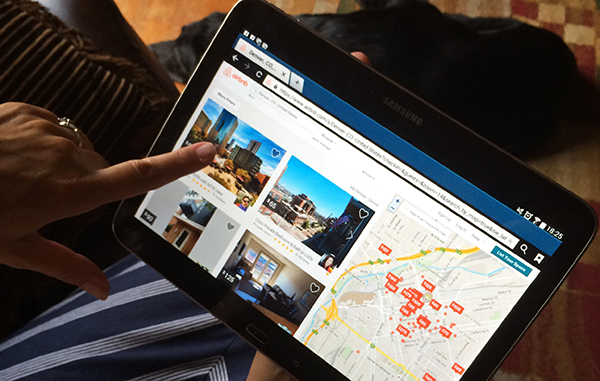 40243