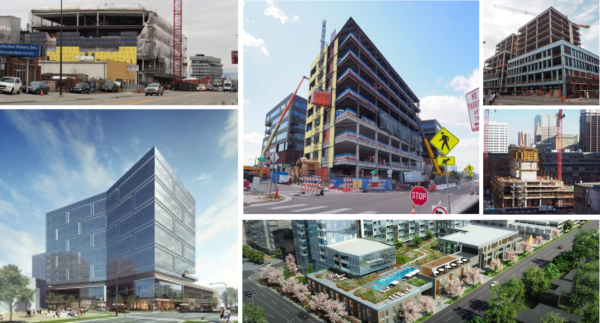 Tower cranes and sidewalk closures don't last forever.
With the new year just around the corner, here's a look at some of the major developments in Denver that are expected to be completed in 2020.
Given the plethora of apartment projects underway in the city, we opted to focus on office and mixed-use projects, as well as the one major condo project that is wrapping up.
Market Station
This project on the site of a former bus terminal takes up nearly an entire block along the 16th Street Mall. It wraps around the existing RTD office building at 1600 Blake St.
Market Station is expected to be completed in the second quarter, according to a representative for Denver-based Continuum Partners, which is developing the project with New York-based Clarion Partners.
Market Station will incorporate 82,000 square feet of retail space on the ground floor of the entire project, including units facing the pedestrian-only "paseo" where an alley typically would run.
The project will have 95,000 square feet of office space along 16th Street, and 225 apartments on upper floors elsewhere.
Rev360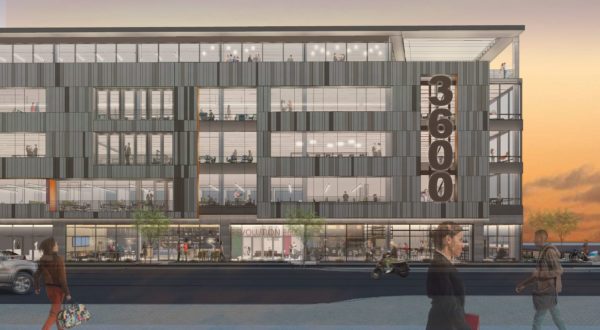 Rev360 is a five-story office building being constructed in the 3600 block of Brighton Boulevard in RiNo. It will have retail space on the ground floor.
The core and shell of Rev360 are expected to be completed in June, according to a representative.
The building is being developed by Revolution 360 LLC, a joint venture comprised of General Partner Ed Haselden, Keystone Equities, Rob Cohen, Tributary Real Estate and Avenue Property Group. WeWork has signed on to take two of the project's four office floors.
The Hub North
The Hub North is the second phase of Beacon Capital Partners' office complex near the 38th and Blake rail station in RiNo.
The eight-story project will have retail space on the ground floor, and is expected to be completed in May, according to a Beacon representative.
The Hub South, the complex's first phase, is already complete. It has landed WeWork and HomeAdvisor among its office tenants, and Chase, Slater's 50/50 and Whole Sol among its retail tenants.
Block 162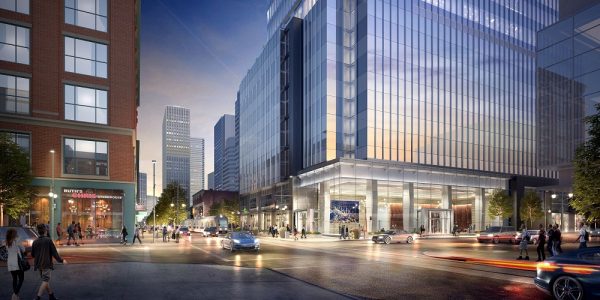 The 30-story Block 162 building, which broke ground in summer 2018, will rise 30 stories at 675 15th St., between California and Welton streets.
The first tenant is expected to move in come December, according to Doug Wulf, the Cushman & Wakefield broker marketing the building.
Houston-based Patrinely Group and USAA Real Estate are the developers.
6900 Layton
The 15-story office building 6900 Layton is under construction within the Denver Tech Center's Belleview Station area.
A Prime West executive said the project is expected to be completed in mid-to-late summer.
Newmont Mining Corp. has leased four floors of the building for its headquarters, which are currently located a short distance away in Greenwood Village.
Lakehouse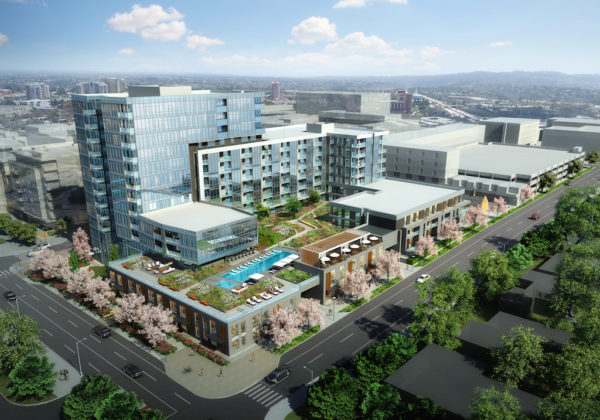 Lakehouse is a 196-unit condo project being developed by Denver-based Nava Development across the street from Sloan's Lake Park. It also will feature retail space.
Lakehouse will welcome its first residents in early 2020, according to Nava.
---
---
What's not on here?
Expecting to see something else here? A few updates:
+ Denver-based developer Revesco Properties has completed Meow Wolf's future home. But the art collective, which once floated a 2020 opening, said it now plans to open in 2021.
+ Stonebridge Cos.'s conversion of the former Emily Griffith Opportunity School in the 1200 block of Welton Street into a hotel is now expected to be completed in the first quarter of 2021, according to the company.
+ McGregor Square, the mixed-use project the Colorado Rockies are developing next to Coors Field, is eyeing an early 2021 opening.
+ The Thompson Hotel being developed at 16th and Market downtown is expected to open in 2021.