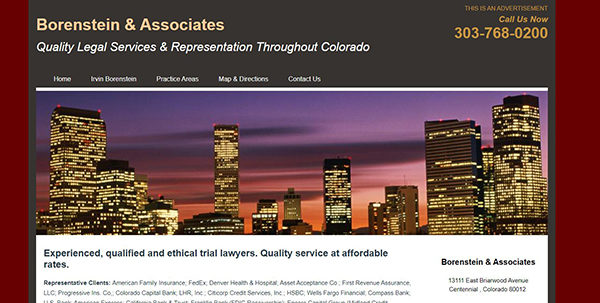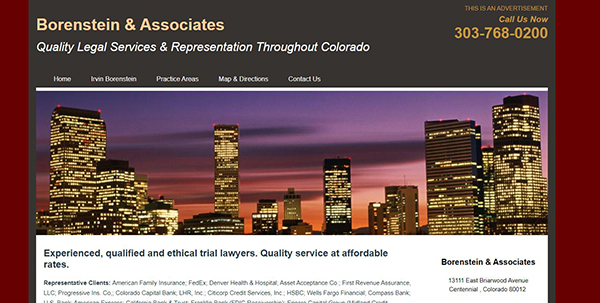 A debt collection law firm in Centennial has some creditors of its own.
Borenstein & Associates filed for Chapter 11 bankruptcy on Nov. 26, saying that it owes at least $698,000 to fewer than 50 creditors. The firm said it has assets totaling less than $50,000.
Companies use Chapter 11 bankruptcy protection to reorganize and help keep the business alive, paying creditors over time.
Borenstein & Associates' website listed two attorneys as of Monday afternoon, but was later updated to name just one, Irvin Borenstein. The firm lists the following as its practice areas: collections, creditors rights, criminal, DUI, felonies and traffic violations.
Irvin Borenstein signed the bankruptcy filing on behalf of the firm. He did not respond to a request for comment Monday.
The firm's largest creditor is Salsa Properties Briarwood LLC, owed $366,087, according to the filing. Public records show that entity owns the office building at 13111 E. Briarwood Ave. in Centennial where the firm previously operated.
Court filings show that Salsa Properties sued Borenstein & Associates — at the time known as Silverman & Borenstein — for falling behind on rent payments, and was awarded a $339,792 judgment in August 2018. The law firm, which listed a new office address on the bankruptcy filing, has appealed the ruling.
Borenstein & Associates also owes more than $216,000 in court filing fees, according to the lawsuit.
Attorney David Warner of Littleton's Wadsworth Garber Warner Conrardy is representing the firm in bankruptcy proceedings.
Editor's Note (12/4): This story has been updated to reflect a change made on the firm's website.