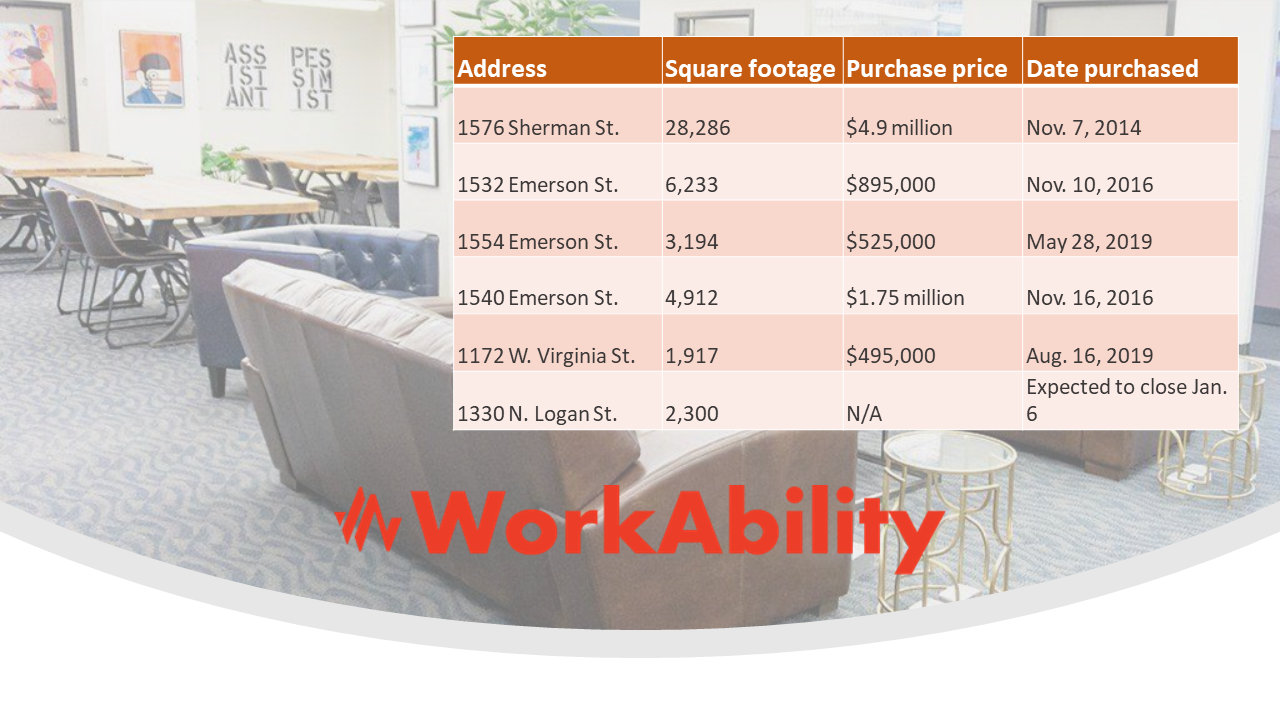 WeWork's stumbles be damned: Caroline Lofts is pushing hard into the Denver coworking scene.
As the shared office space industry undergoes a shake-up, the 42-year-old CEO's family has spent $8.6 million in five years on property to launch and grow WorkAbility, the local coworking brand born out of their real estate holdings.
The company has purchased two properties in Denver in the past six months and is under contract for one more. Lofts expects three new locations to come online in 2020.
"So long as there is a reasonable demand for what it is that we're offering, we will keep trying to provide that," she said.
Lofts is from London, and said her background ranges from songwriting and magazine publishing to owning a brick-and-mortar retail shop. She joined WorkAbility as marketing director four months after the company launched, and became CEO in October 2018.
Lofts said her family has been in the real estate business in the UK and Denver for decades. Several years ago, the family realized some of the properties they owned in Denver lent themselves well to coworking.
WorkAbility launched in late 2017.
"The secret sauce is nothing other than taking the time to actually create a community," Lofts said.
Third location recently opened
WorkAbility's first location opened in November 2017 in a 6,233-square-foot converted house at 1532 Emerson St., purchased in 2016 for $895,000.
In April 2018, the company opened its second location less than a mile away at 1576 Sherman St. It purchased the property in 2014 for $4.9 million, according to public records.
The company's newest location opened in October at 1554 Emerson St., two doors down from its first. It's one of the two purchases WorkAbility has made this year; it paid $525,000 in May 2019, records show.
WorkAbility charges $135 per month for hot desk users, who opt to work from any open desk, or $400 a month for those who want a dedicated desk with lockable storage. Private offices start at $900 per month, according to the company's website.
The Sherman Street location offers amenities such as a dog washing room, yoga studio and daily breakfast.
WorkAbility also is tweaking its business model. In early November, the company cut off access to its original Emerson Street location, which had only hot desks. It is trying to lease the entire building to a single office tenant.
"I don't think roamers are as prolific a breed as we are led to believe," Lofts said. "I think it's not as contagious."
WorkAbility's 25 hot desk members still can work at the Sherman location, she noted.
More coworking, maker's space in the works
WorkAbility also plans to expand into the building at 1540 Emerson St., between two of its existing locations.
The nearly 5,000-square-foot building, purchased in 2016 for $1.75 million, will lean heavily towards dedicated desks and offices.
"At the moment it's just a shell and (we) literally pulled every single bit of it out," Lofts said. "And we're in the process of deciding exactly what we're going to do."
Lofts said the location likely will open in six to nine months.
WorkAbility is also under contract to purchase the home at 1330 Logan St. in Capitol Hill, with plans to use it for coworking. The sale of the 2,300-square-foot property is expected to close in January, Lofts said.
The company plans to try something new, meanwhile, at the second property it purchased this year.
The 0.21-acre property at 1172 W. Virginia St., purchased in August for $495,000, will give the company its first presence outside central Denver; it's located near the I-25/Alameda Avenue interchange.
Lofts said WorkAbility plans to convert the property into a "maker's space," where business owners can weld, saw, and make and sell products.
The property will have 10 to 15 small structures, a model Lofts first saw in Eastbourne, England.
"People would build these little beach huts and they're all quite uniform in their kind of structure, but they're all different colors," she said.
The huts will be rented on a monthly basis. No price has been determined.