At 30 stories, office tower Block 162 may be the tallest project currently underway in downtown Denver, but Market Station is the largest in terms of footprint.
The project being developed by Denver-based Continuum Partners and New York-based Clarion Partners takes up nearly a full city block, right off the 16th Street Mall. The project, being developed on the former site of the Market Street Station bus terminal, forms a "U" around the existing RTD office building at 1600 Blake St.
When it wraps up next year, Market Station will incorporate 82,000 square feet of retail space on the ground floor of the entire project, including units facing the pedestrian-only "paseo" where an alley typically would run. The retail space has been branded "Basecamp at Market Station" as the developers target outdoor brands. 
Market Station will include 95,000 square feet of office space along 16th Street, and 225 apartments on upper floors throughout the project.
Here are four renderings showing, clockwise from left, the corner of 16th and Market, the corner of 17th and Market, the corner of 17th and Blake and the portion of the project that fronts the 16th Street Mall. Click for a larger view.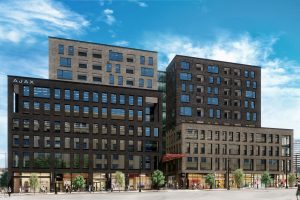 And here are photos taken last week of the construction site, as well as a site map. Click for a larger view.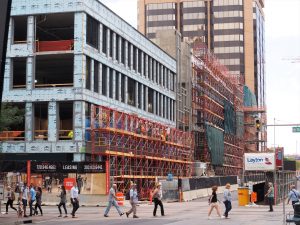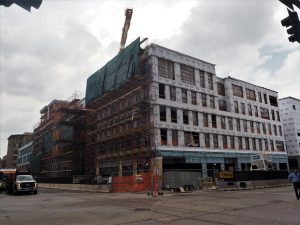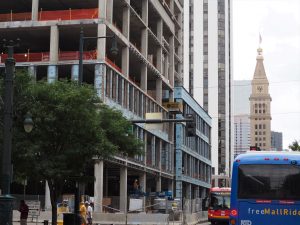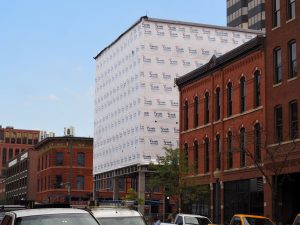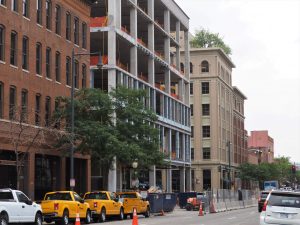 Developer: Continuum Partners and Clarion Partners

Groundbreaking: October 2017

Expected completion: Q2 2020

Architect: BOKA Powell and El Dorado Inc.

General contractor: Kiewit Construction

Office broker: Todd Wheeler, Cushman & Wakefield

Retail broker: Stephen Fouhy, Continuum Partners

Commercial leases: None announced

Residential leasing: Starts Q1 2020

Elsewhere in town: This isn't Continuum Partners' only big development site in Denver. The company and partner CIM Group are working on 9+Co, the mixed-use development underway at 9th Avenue and Colorado Boulevard, on a former hospital campus. 

BusinessDen's Project Snapshot feature provides a visual update on notable developments in the Denver area. We last checked in on Denver Health's Outpatient Medical Center. 

37317