Another hotel has been proposed for Cherry Creek, although it's outside of the core business district.
A site-development plan was submitted to the city last week, proposing a 12-story AC Hotels by Marriott property with 150 rooms at 370 S. Garfield St., about three blocks west of Colorado Boulevard.
The 0.34-acre property is owned by 370 S Garfield LLC, an entity formed by Fritz Reichardt, according to public records. Related entities have owned the property for decades.
The one-story retail building on the site dates to 1980, and was once home to bakery Andre's Confiserie Suisse, which operated in Cherry Creek from 1967 through the end of 2015. The property is currently being used as a construction staging area for the apartment complex going up next door.
Mesa, Arizona-based Sunridge Hotel Group would develop the hotel. The company, which did not respond to a request for comment, hopes to open the hotel in December 2021, according to its website.
Sunridge owns a Courtyard by Marriott hotel in Westminster, and is also developing a Springhill Suites hotel in Colorado Springs, according to its website. The company also owns hotels in Arizona, New Mexico and Utah.
The hotel rooms would be on floors six through 12, according to the plans, which were drawn up by The Richardson Design Partnership of Salt Lake City. The project would have 113 parking spaces on floors two through five above the lobby.
Cherry Creek began the decade with one traditional hotel, the JW Marriott. Since then, three more — the Moxy, Jacquard (a Marriott Autograph brand) and Halcyon — have opened in the business district.
The former Inn at Cherry Creek is also being expanded by BMC Investments. CEO Matt Joblon said Monday he hopes to reopen it in the first quarter of 2021.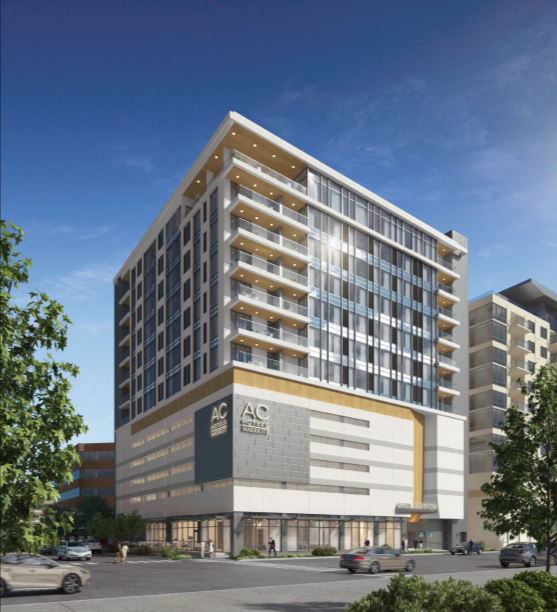 37302