After months of work below street level, construction of Block 162 is firmly in the "visible" category.
About four levels of the concrete podium are in place, with building cores extending above that.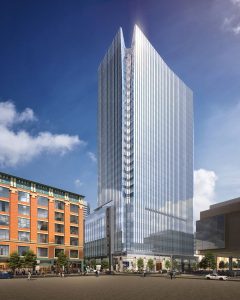 The downtown office tower, which broke ground last summer, eventually will rise 30 stories at 675 15th St., between California and Welton streets. Houston-based Patrinely Group and USAA Real Estate are the developers.
The 600,000-square-foot glass building will have retail space and a lobby on the ground floor, and offices on the 11th through 30th floors. The 11th floor also will house a fitness center, lounge and outdoor deck space. Parking will be on floors three through 10, as well as three below-ground levels.
The 1.1-acre site was previously a parking lot.
A 38-story hotel has been proposed for a strip of land next to the under-construction office tower, behind the buildings that front the 16th Street Mall.
Here are photos of the construction site taken this past weekend, as well as previously released renderings and a site map.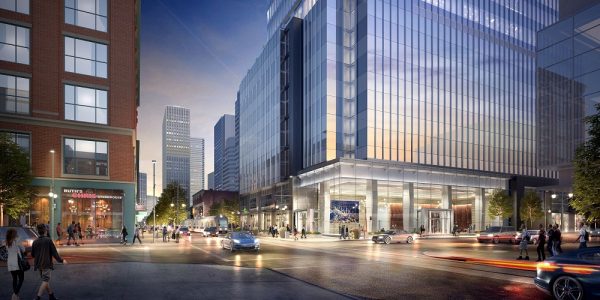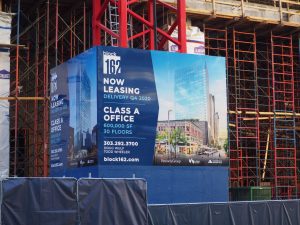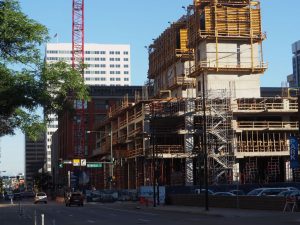 Developer: Houston-based Patrinely Group and USAA Real Estate

Development plan: Linked here

Groundbreaking: Summer 2018

Expected completion: Q4 2020

Architect: Gensler

General contractor: Swinerton

Tenants: None announced

Office leasing brokers: Doug Wulf and Todd Wheeler, Cushman & Wakefield

BusinessDen's Project Snapshot feature provides a visual update on notable developments in the Denver area. We last checked in on Platte Fifteen.

36364