Your Instagram feed is safe.
A North Broadway office building that bears what is arguably the city's most prominent mural has sold, but the new owner doesn't have any plans to do away with it.
"I do look at that art as kind of a public amenity," Marti Page said.
Page's real estate firm, Anchor Investments, purchased the two-story building at 2314 N. Broadway last week, paying $1.58 million, according to county records.
The building is 4,354 square feet, according to city records, which makes the deal worth $363 a square foot. The structure, which dates to 1953, comes with parking; it sits on a 0.11-acre triangular lot at the corner of Broadway's intersection with Arapahoe Street and Park Avenue.
Since 2016, the south side of the building has featured one of artist Pat Milberry's "Love This City" murals, which has become a magnet for tourists and locals alike, thanks to its downtown location and prominent "Denver" label.
"It is wild how much exposure that's gotten," said Jarod Clark, who sold the building to Anchor Investments.
Clark said he, Visit Denver and the RiNo Arts District split the costs of the mural, which Westword said was painted in 2016.
Clark's web development firm Unleaded Digital operates in the building, which he purchased in April 2005 for $397,000, according to records. He added the parking lot south of it — also included in last week's transaction — was bought in two deals totaling $94,600.
Clark said the firm, which he founded in 1996 while in high school, once used the whole building, but now is using about a quarter of it, as more employees opt to work from home. Unleaded, which specializes in ecommerce websites, has about 10 employees in Denver and five in India, and is on track to do $2 million in revenue this year, he said.
Clark said he saw "the neighborhood come to life" during the time he owned the building, and figured the property might be prime for redevelopment, which he didn't want to take on.
"I thought to take the next step you'd need to either be a developer or have a bigger toolkit than I currently have," he said.
Clark, who didn't work with any brokers, said he did hear from parties interested in possibly scraping the building to construct something new. But he found his buyer across the street. Page, of Anchor Investments, owns the building at 1075 Park Avenue West, a former industrial property that she's converting into an event center called Asterisk.
The first event is scheduled for September, Page said. She's added a rooftop deck, and is in negotiations to lease retail space to a coffee shop. The venue's name is inspired by the intersection, which forms an asterisk.
Page said she bought the 2314 N. Broadway property largely because she wanted its parking lot, to serve the event center. The building will continue to be leased as office space. Unleaded will continue to lease its share for another year. Other tenants include Groupon to Go.
Page said she's not on Instagram, but that her husband — a pastor whose congregation Grace City Denver will meet at Asterisk — regularly sends her photos people post of the mural.
"I think it's really kind of special to Denver," Page said.
Clark said on Turo, a site that allows individuals to rent out their cars, "one out of 20 vehicles is photographed in front of that mural." He noted that most users crop out his company's logo.
As for redevelopment further down the line, Page noted that she does consider the Broadway property — which is zoned for up to five stories — "a strategic site to own." But, she added, "it's kind of a weird footprint."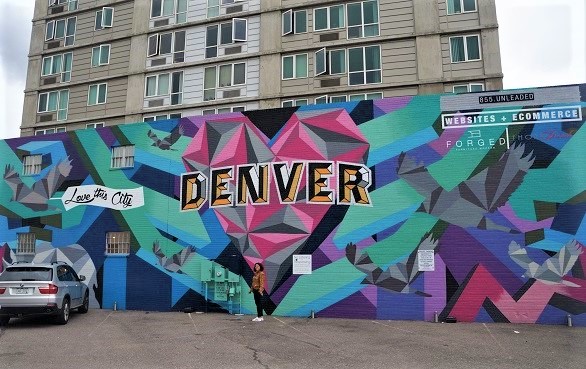 35232