Red Rocks concertgoers no longer need to schlep back to Denver after shows and beer.
Red Rocks Glamping is about to begin its second year of pitching its canvas tents in Morrison, just two miles from the Red Rocks Amphitheatre. The company has added 20 tents to the 40 it had last summer at 18022 CO-8.
"We're filling a niche being really close (to Red Rocks) and providing a musical vacation," spokeswoman Alicia Karlin said. "Not everyone who's staying there is going to Red Rocks, but a large majority are.
"Last summer was really busy, which was why we added more tents."
Guests can book a tent with two twin beds, a queen bed or a cot for between $129 and $200 per night.
After booking online, guests check in onsite with a staff member, who shows them to their tent. Each one comes with bedding, towels, end tables and chairs, battery-operated lighting and a lock. In addition, the campground provides hot showers and flushable toilets, and Karlin said food trucks will come by throughout the year.
Campers can either drive to the concert venue or take a ride share, Karlin said.
In addition to Karlin and two other Boulder residents, Red Rocks Glamping is a project of the owners of New York-based ConTENTment Camping, which sets up glamping tents at music festivals such as Bonnaroo, Electric Forest and the Peach Fest.
"We've all been working together in the music business doing festivals," Karlin said.
The owners lease property for the tents from T.E.V. Edelweiss-Denver, a German heritage social club.
"They had a lot of space and they were looking to have some other things going on there in order to maintain their year-long property," Karlin said.
Red Rocks Glamping is staffing the property with 10 to 15 workers for around-the-clock service.
In addition to glamping, Karlin said the company also has 15 spaces for guests looking for a less-glamorous option and who want to set up their own tents for $60 per night. The business also has plans to build cabins on the property next summer.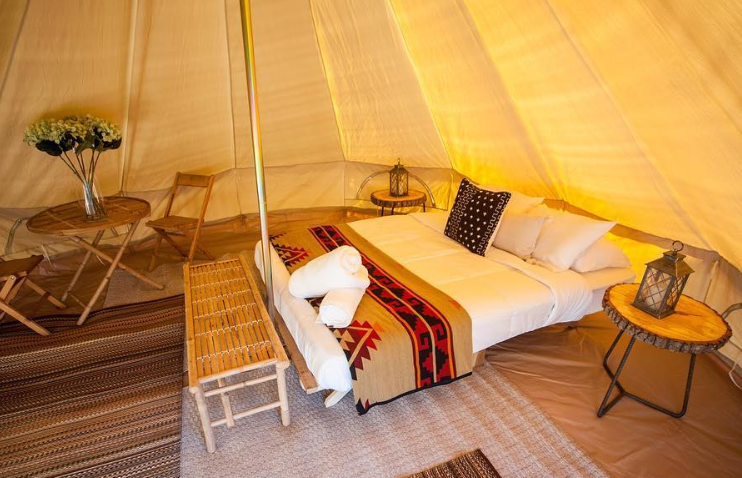 34756