Maegan Scarlett and Liora Dudar's hair is a walking billboard for their product.
Scarlett's is yellow and orange, while Dudar's is navy blue. Perhaps unsurprisingly, the company they founded five years ago, oVertone, sells a do-it-yourself alternative to hair dye.
"Meagan had bright orange hair and wanted to take hot showers at the end of the day," Dudar said of the company's origin. "You pretty much have to adjust your lifestyle around having colorful hair. It's sort of an exhausting, high-maintenance lifestyle."
Fast forward to 2019, and oVertone employs 63 people between its Denver headquarters and production facilities in Tucson, Arizona.
"In the past three months, we've made about 20 hires," Dudar said. In Denver, the growth has meant oVertone hopes to add more office space at 1801 Broadway.
"We're in talks with building management," she said. "We have hired about seven people (in Denver) in the last three months. We also do a lot of creative production … so having models in and out, it would be easier to have more space."
Dudar and Scarlett started the company in 2014 after Scarlett became fed up with the process of dying her hair from home. Neither founder worked as a stylist; Scarlett's background was in health care, and Dudar had worked at art galleries, museums, in photography and in customer service.
"The most experience I had was a seasonal stint at Sephora," Dudar said. "We had no background."
Their idea was to sell colored hair conditioner in vibrant colors such as red, orange, pink and teal for customers wanting a coloring option without the damaging chemicals in hair dye. Users apply the conditioner to wet or dry hair and wait 15 minutes for the color to set in, and can re-apply weekly to keep the color.
"We could make a product in our kitchen and we could sell it on the internet," Dudar said. "We didn't fundraise because we didn't know how, and because it wasn't an option."
Unlike traditional dyes used to color hair, oVertone's conditioners are made without peroxide, ammonia or heavy chemicals that damage hair, and instead use plant-based ingredients such as coconut oil, shea butter and olive oil. Dudar said customers will see mixed results from the semi-permanent pigments, based on their current hair color and health, but generally the color lasts about a week.
The startup has grown up since 2015. It manufactures its products in two buildings in Tucson, each around 8,000 square feet. The founders originally worked in California and Tucson, but moved to Denver three years ago, having decided it would be easier to find accountants, insurance agents, marketing talent and other business resources.
"What we found is that Denver just right now and especially three years ago, is just this hotbed for entrepreneurship," Dudar said. "We just had a good feeling this was where to build. People really understand what we're doing. With five years behind us, they're willing to believe us."
Although salons and hair stylists can order oVertone products in bulk for their businesses, Scarlett and Dudar also sell directly to their customers online. Some of their customers choose to color their hair at home, and others take oVertone into their stylist to color it for them, Dudar said.
Last month, the startup launched colored hair conditioners in earthy tones such as brown and black to cater to customers looking for more natural looks. Still, oVertone's bread and butter has been made from customers looking to make more of a statement with their hair.
"I think in general, self-expression is becoming more acceptable," Dudar said. "Businesswear isn't so perceived in many industries as a suit anymore. I think we can say with a lot of confidence that there was a time when nail polish had to be light pink, clear or French-manicured. (Now) it's really about personal presentation and self-expression."
Editor's Note: This story has been updated to remove a figure regarding orders in April 2019 versus April 2018 that the company says had not been verified.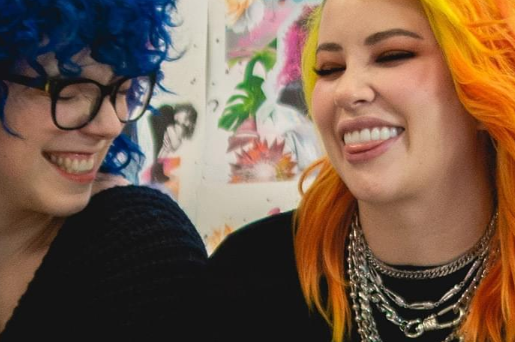 34708