While breweries have played a key role in the reinvention of RiNo in recent years, the driving force behind the area's next generation might strike a different note.
"I'm really bullish on the west side of RiNo becoming a music corridor," said Andrew Feinstein, managing partner of EXDO Properties.
Feinstein was one of five panelists Tuesday evening at BusinessDen's "The Future of RiNo Development" event, along with Fiona Arnold, president, Mainspring; Jonathan Alpert, partner, Westfield Co.; Kyle Zeppelin, president, Zeppelin Development; and David Jaudes, vice president of multifamily development for McWhinney.
In a 90-minute Q&A session at the EXDO Event Center moderated by Ireland Stapleton attorney Tom Downey, the panelists discussed the work they've done in the former warehouse district, and the opportunities and challenges they see.
"When The New York Times covers Denver … it's really focused on RiNo," Zeppelin said. "It is a very signature neighborhood."
Westfield's under-construction North Wynkoop development, which is anchored by an AEG concert venue, was highlighted as a project key to the district's future — one that could even help attract live music to other venues in RiNo.
"That's our hope for Mission Ballroom, is that it's going to be a catalyst," Alpert said, adding the venue is expected to open in August.
More than 500 BusinessDen readers attended the event, which was presented by Ireland Stapleton.
Arnold, who developed Backyard on Blake, focused on the small independent retailers that have flocked to the neighborhood — and the challenges they face. In the last three years, she said, because of taxes, triple net lease costs for her tenants have increased from $9 to $14 a square foot.
Given those costs, developers need to get away from thinking that a 1,500-square-foot unit is appropriate for a coffee shop, she said.
"We have to stop pretending that we're Mountain West and we have all this space, and we have to start thinking we're New York," Arnold said.
Jaudes, with McWhinney, noted the important role that the 38th and Blake commuter rail station has played in growth. McWhinney's nearby RiDE apartment complex was built with 0.5 parking spaces per unit, and it took effort to convince everyone involved that made sense, he said. But the opening of the complex has shown that was a smart move.
"We're in the middle of lease-up and we have, I think, 35 residents and we have eight cars," Jaudes said.
Other sponsors of the event were Anchor Engineering, Alpine Bank, NAI Shames Makovsky, Porcelanosa, Mortenson, Stewart Title, Crowe, CCIF, OZ Architecture, Encore Catering and Culinary Services, and Great Divide Brewing Co.
BusinessDen will host "The Future of Cherry Creek Development" on June 25 at EXDO Event Center.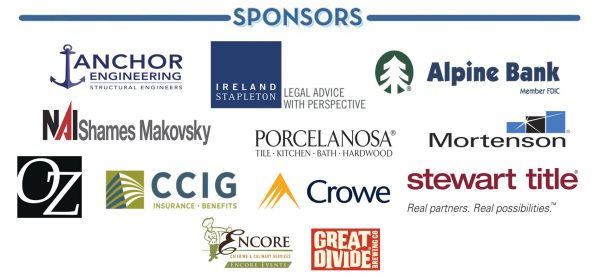 32213