A new Denver startup company is focusing on the past.
Ex-Craftsy employees have started Kinecho, a storytelling tool that helps families record and preserve memories. CEO Ryan Brown said the startup has raised $450,000 in a funding round led by Colorado-based Access Venture Partners.
Paying Kinecho customers can invite their family members to join for free, where they can upload photos, and record audio or type up stories, which then can be accessed by the whole family on a private page. Kinecho also provides prompts for those who aren't sure what to say.
Kinecho access costs $9.95 per month, $79.99 annually or a one-time fee of $195. The service is aimed at older generations.
"There is still a huge opportunity for this audience, which we believe is starting to get attention but which is mostly still ignored," Brown said.
Kinecho has "hundreds" of users, Brown said.
"We started giving the product to customers on Thanksgiving," Brown said. "We've recorded nearly 500 stories from our users since then."
Brown, 38, worked as an international coffee buyer and ended up at Tonx Coffee, a startup that was acquired by Blue Bottle, which Nestle bought. He made the transition into product management, which led him to a job at Denver-based Craftsy. Craftsy, an online craft retailer that was acquired by NBCUniversal in 2017, rebranded to Bluprint this month.
"I wanted to try product (management) but inside the coffee industry," he said. "It was at Craftsy that I met a lot of great people who are part of the Kinecho team."
Brown moved to Denver in 2016, and along with a few other Craftsy employees, left the company on a Friday last August. The following Monday, the group was at Brown's house, brainstorming different travel-related or gift-related startup ideas.
"The thing that surprises people is how much of the team came together before we had the right idea," Brown said. "We really liked working with each other."
Brown said he wanted to produce something geared toward older customers, which was Craftsy's demographic.
"We understand its quirks, the needs of that audience," Brown said. "Tech is largely under-serving that audience … It's one of the fastest-growing demographics."
Brown also wanted to address some of the issues older folks have, including loneliness, mental health illnesses and dementia. He said he surveyed people about how much they'd pay to have recordings from their grandparents or other relatives.
"What we heard back from people was that was incredibly valuable to them," Brown said.
"The first time they listen to a family member's story, something clicks and they fall in love with it."
Brown said his company has been helpful even on a personal level.
"I realized I don't really know my parents very well," he said. "Every time we talk, we talk about the weather or, God forbid, we talk about politics. We don't really talk about deep or meaningful things."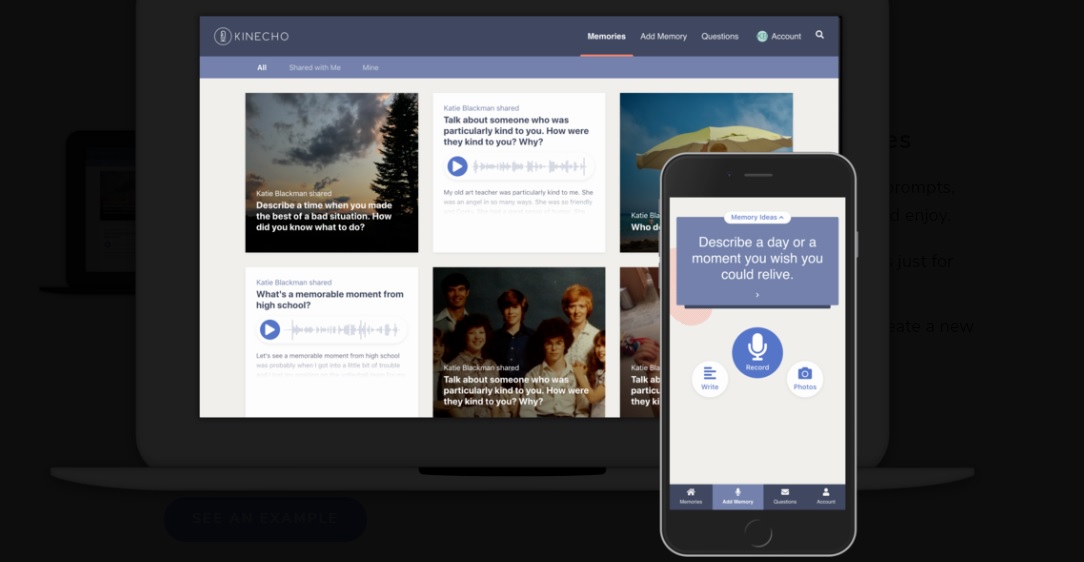 31184