After spending millions converting an old silent movie theater into a home, a Denver resident is looking to move.
The Granada Theater, located at 2925 W. 25th Ave. in Jefferson Park, was built in 1926 as a silent movie theater. It later became a community theater and a church.
David Jensen purchased the property for $600,000 in 2011, according to county records, and spent 2 1/2 years and $3.4 million converting the run-down theater into a livable home, according to listing agent Rodolfo Canon.
"It was a rough, disgusting rundown shell," Canon said. "It was in rough shape when he picked it up."
Jensen kept the Spanish Revival exterior and added a marquis replica. The home has an unusual feature in its entryway: three theater chairs and a movie screen surrounded by an elegant curtain.
"It just felt like he needed a theater in the theater," Canon said.
The main level features an open floor plan for entertaining, with a kitchen and separate bar with its own dishwasher. The main level opens up to a deck with a 1,200-square-foot patio with a hot tub and rooftop deck overlooking downtown Denver.
Downstairs, residents can use an expansive 2,800-square-foot concrete garage, where the theater and orchestra pit used to be.
"It's perfect for an athlete or bachelor, somebody that likes privacy," Canon said. "You come home to peace and quiet."
Canon said his sellers have grown children and the home is not a fit for them anymore.
"It's an incredible house," Canon said. "There's nothing like it in the state of Colorado."
The Granada Theater still has its commercial zoning, in case a buyer wants to open an office in the space.
Address: 2925 W. 25th Ave.
Listing price: $3.95 million
Stats: 5,100 square feet, including the garage and outdoor patio
Seller: David Jensen, who purchased the theater in 2011 for $600,000
Listing agent: Rodolfo Canon with Your Castle Real Estate
The finer things: Heated floors, Venetian plaster, imported Italian doors and a fireplace shared with the office and bedroom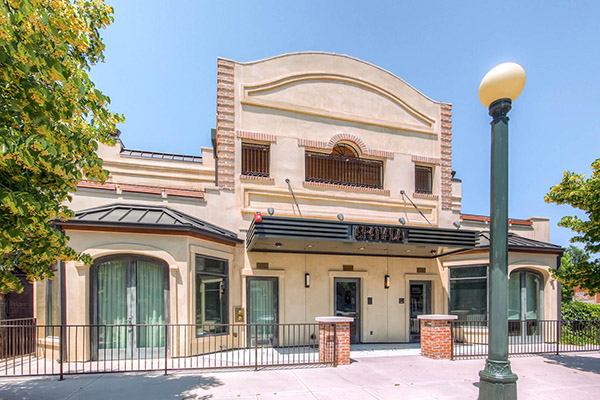 30071