A Denver-based packraft manufacturer has navigated the waters of its first round of equity funding.
Founder Kelley Smith said his inflatable raft startup Kokopelli closed on a round of $210,000 last month, and plans to raise $750,000 in a Series A round by year-end.
"The equity raise is primarily to build our team on the sales and marketing side," Smith said. "Some of the money is going toward securing patents that we've identified. We've worked on a number of new products that we're going to be rolling out in 2019."
In addition, Kokopelli has anchored itself even further in the Front Range by signing a lease on 1,200 square feet of warehouse space at 14478 E. I-25 Frontage Road in Longmont.
"It's really our first formal space. It's just nice to have a place where we can put all of our equipment and accessories, and have the ability to make repairs, and test new products and prototype new designs," said Smith, who has been working out of coworking space Wayfinder.
The warehouse replaces Kokopelli's previous storage space: Smith's garage and basement.
"My wife is thrilled we're moving out beyond the house," Smith said. "My garage is the cleanest it's been in five years."
Kokopelli's new funding comes on the heels of the startup's successful Kickstarter campaign, which sold $120,000 of the company's new Rogue raft, beating the $30,000 goal.
One-third of the Kickstarter sales were to European customers, which Smith doesn't find surprising.
"Packrafts, being so lightweight and compact, are ideal for people in Europe," he said. "They have these small modest homes, and space is a premium, so that's why I believe the sport of packrafting has grown so popular in Europe."
Smith said Europe, particularly its northern reaches, also presents plenty of rafting opportunity.
"These are great places of vast countryside and wilderness areas with a lot of water, lakes and rivers," Smith said. "The opportunity to use them, it just presents itself a lot more closely than in the U.S."
Kokopelli sells seven models of inflatable packrafts on its website, ranging in price from $595 to $1,050. Next spring, Smith said, the startup plans to release a new model: an 18-pound packraft designed for durability and constant use in rental or guiding programs.
"Really, it has all the tell-tale signs of becoming the next mainstream sport in the outdoor industry," Smith said of packrafting. "Obviously you have this big shift in the camping side toward glamping … and making everything more comfortable. Packrafting really appeals to more adventurous people who want to get out there and to places people have never been before."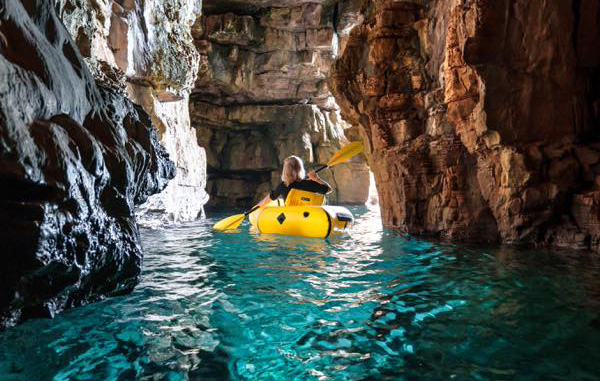 29696