Two restaurants that recently closed on the edge of Platt Park will be replaced by a new concept from a former owner of Cap City Tavern in the Golden Triangle.
Sam Armatas, who co-owned Cap City from 2008 to 2015, plans to open Devour The 303 in the space where Atticus and The Rosedale once operated, at 1135 E. Evans Ave. He's aiming for a December opening.
Armatas, 40, said the restaurant's name references Denver's area code because Devour plans to use as many local ingredients and products as possible while still maintaining a neighborhood eatery's feel and pricing.
"We're not as focused on organic and using the whole animal, but instead the economy of where things are being sourced from," he said.
The Rosedale and Atticus — separate restaurants that shared one kitchen and the same ownership — closed in September after operating for 2 1/2 and 4 1/2years, respectively.
Armatas acquired the assets of the restaurants in a deal that closed last week. Sanborn and Company broker Mark Valente represented seller Table to Tavern restaurant group, which still owns Blackbird Public House in Washington Park.
"We really loved being a part of the neighborhood and getting to know so many people over the years, but were just unable to continue operating in this difficult market," Table to Tavern owners Brian and Angie Midtbo said on Atticus' Facebook page last month.
Armatas said he struck a new lease with the landlord. Devour The 303 will operate in both of the former restaurant spaces, which combine for about 4,600 square feet. The Atticus side will be used in the morning. In the evening, the Rosedale side will be the main dining area, while the Atticus side — which has its own bar and a separate entrance — will be available for private parties.
"I think it's going to be a big draw to have that private space," Armatas said.
He said Devour The 303 will serve typical American fare, with burgers, salads and various entrees priced between $13 and $25. It will operate seven days a week. Armatas said he's still finalizing whether it will serve breakfast, lunch and dinner, or just brunch and dinner.
Armatas said he believes Denver has a plethora of fast-casual and upscale restaurants, but a shortage of options in the middle.
"We want to be a neighborhood restaurant where people come once or twice a week," he said.
Armatas grew up in southeast Denver, attending Thomas Jefferson High School. He said that after selling his stake in Cap City Tavern to partner Dino McTaggart in 2015, he consulted with various restaurants and lived in Las Vegas for a time. He moved back to Denver at the end of 2016 and most recently managed downtown Italian joint Panzano.
"Honestly, since I sold Cap City, I've been looking for my next project," he said. "And this is it."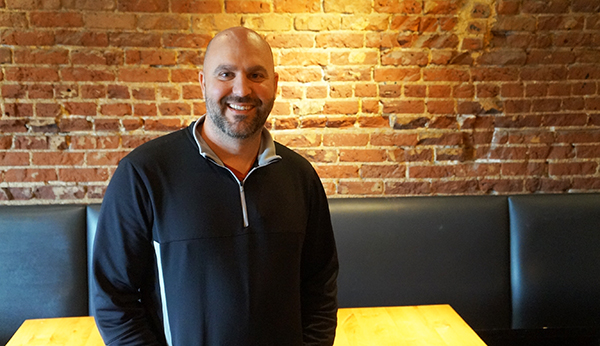 29515