More than 180 BusinessDen readers ventured to West Colfax Wednesday evening for the second installment of our Hard Hat Happy Hour event series.
The event, presented by Otten Johnson Robinson Neff + Ragonetti, was held at Little Man Ice Cream's soon-to-open shop and production facility at 4411 W. Colfax Ave.
Denver developer Paul Tamburello, the founder of the brand, and architect Ted Schultz discussed their whimsical reinvention of the 6,000-square-foot building, complete with an overhead pail conveyor system.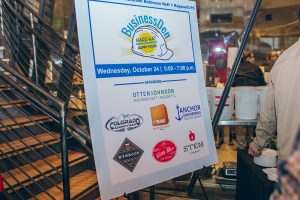 Guests sampled Little Man ice cream and dessert concoctions as they networked.
Enjoy these photos of the evening by Geovanny Flores.
We're already scouting out potential sites for future installments of Hard Hat Happy Hour. If you have any ideas, feel free to send them our way.
And a special thanks to our sponsors for Wednesday's event: