The Tetons provided the perfect setting for James Poss to test his outdoor gear designs.
But when it came time to focus on growing his startup, Switch Designs, he moved to Denver.
Poss, 26, who started making ski boot luggage two years ago in Jackson Hole, Wyoming, relocated to Denver 1½ months ago and works out of the WeWork on Platte Street. He said Denver has the type of marketing, design and other professionals he needs to get his company off the ground.
"It was also important for me to be close enough to my warehouse that I could check in any time I want," Poss said. "I wanted to go somewhere where there was a very entrepreneurial culture."
The Denver airport also was a draw.
"I still travel back east a lot for business. A lot of my financial supporters do not live out here," he said.
Poss has been a skier all his life and said he never could find an easy way to carry his boots.
"Twenty years later after my first-ever ski trip, people were using the same exact terrible luggage, despite all the advances in gear technology," he said.
Poss attended UCLA and studied business economics before moving to New York to work in investment banking. He quit his job to start Switch Designs, launching a Kickstarter in December that sold $16,000 worth of the bags and filing a patent for his design.
"I wanted to find a way to create a bag that could be used equally as well as a backpack and as a side-carry bag," Poss said.
The convertible Switch Designs bag, priced at $239, includes three compartments: one for each boot and a third for additional gear.
Poss said the first shipment of bags, which will cover the Kickstarter orders, will arrive in the Denver area within three weeks from manufacturing facilities in Vietnam. He declined to discuss how much he and private investors have put into his business.
Switch is not Poss' first foray into outdoor products. In high school, he said, he started a ski glove business with a friend.
"We had Olympic and X Games medalists wearing our gloves," Poss said. "We were very very early into that industry and able to push above our weight because of that … that was my first taste of entrepreneurship and really what convinced me that I would be back."
Poss said he plans to hire some employees this winter, and hopes to add more luggage options, such as bags for skis.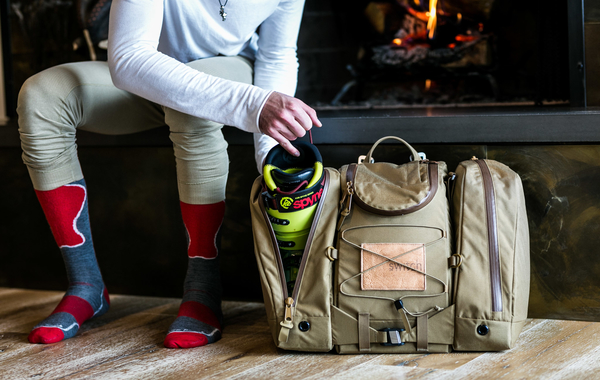 29165