A Littleton-based chain of four Mexican restaurants has filed for Chapter 11 bankruptcy, which the owner attributed to a collections lawsuit stemming from a Highlands Ranch location that failed to find an audience.
Carlos Miguel's Mexican Bar & Grill's existing locations — in Castle Rock, Colorado Springs, Littleton and Frisco — separately filed for bankruptcy protection Sept. 28.
Companies use Chapter 11 bankruptcy protection to reorganize and help keep the business alive, paying creditors over time.
Owner Miguel Martin said the chain's existing locations are profitable, and that the company's struggles revolve around a Highlands Ranch location that closed in June 2017 after it failed to attract enough business.
"We invested a lot of money and at the same time we just never made money," Martin said, saying the location lost more than $1 million.
Martin said the restaurant owed its landlord, Shea Properties, more than $500,000 in rent, and hoped to strike a deal. But he said Shea Properties sued Carlos Miguel's and won, necessitating the bankruptcy filings.
"All of our locations are profitable," Martin said. "We just have to reorganize and pick up the loans … We definitely are not going to be closing anything."
Martin said Carlos Miguel's owes creditors approximately $180,000, in addition to the rent owed to Shea. The chain had revenue of $5.8 million in 2017, he said.
Highlands Ranch isn't the only Carlos Miguel's location to close within the past year. A second location in Colorado Springs shut down in November 2017, and the chain also previously had a Monument location.
Martin said Carlos Miguel's, founded in 2005, provides customers with fresh Mexican food from scratch in a leisurely atmosphere, and employs 100 people.
Martin said that, after getting out of bankruptcy, he plans to focus just on the four remaining locations, and work toward buying properties instead of leasing restaurant space.
"I will never lease from any big corporations anymore," Martin said. "They don't care about the mom-and-pop people. They only care about profits."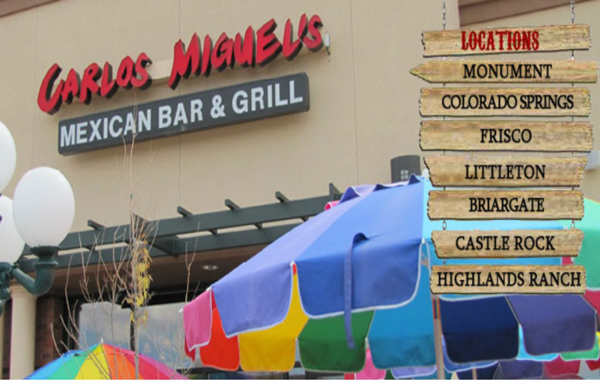 29042