Loveland Ski Area received an avalanche of suggestions from skiers and snowboarders about what to call its newest addition, a high-speed quad lift.
"We did a naming contest and asked for suggestions from our guests, and we received nearly 3,000 entries," spokesman John Sellers said. "Some were just silly, but (there were) a lot of good ones to choose from."
In the end, the mountain went with "Chet's Dream," a suggestion from Loveland skier and former ski patroller Terry Henningson. The name is a nod to Chester Upham Jr., the ski area's former owner.
Upham became a Loveland partner in 1956 and encouraged the installation of the mountain's first lift, only the third in the state (prior to that, the mountain transported skiers by tow rope). Upham took full ownership of the ski area in 1972 and his family still owns the mountain, Sellers said.
The new lift accounts for the majority of $5 million invested at the mountain during the summer, Sellers said, adding that's the most spent on capital improvements in more than 80 years.
The new lift is the ski area's first high-speed quad. Chet's Dream is one of two lifts transporting riders from Loveland Basin, carrying riders south to terrain ranging from easy greens to double blacks.
"It is a pretty big deal. It's a significant investment in the future of Loveland Ski Area," Sellers said. "This is our workhorse that runs from opening day to closing day."
Loveland's Lift 6 is the next lift slated for an upgrade, as it's been shuttling skiers since 1977.
Sellers said chairs are being installed on Chet's Dream this week, and the lift will be ready for riders on opening day. Loveland has not started snowmaking yet, but expects to open in October.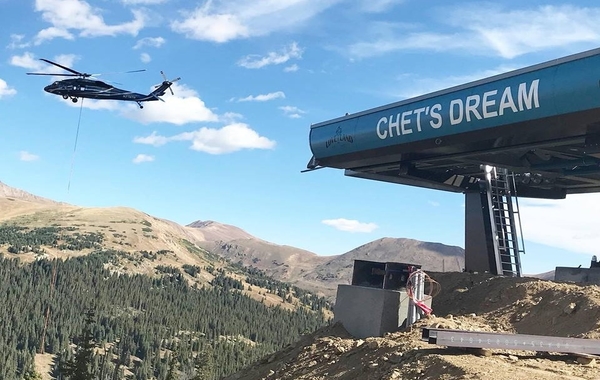 28996