A local nonprofit is partnering with Denver Public Schools and area businesses to give away more than 25,000 bicycles to second-grade students in the next five years.
"We're looking for that wellness component — to see more kids involved in their community, working and being together on bikes," said Brad Appel, founder and executive director of Wish for Wheels.
Greenwood Village-based Wish for Wheels has had one goal since it launched in 2005: getting as many kids on bikes as possible. Growing up in Westchester, New York, Appel said his parents used to kick him out of the house "and tell me not to come home until the street lights turned on."
Since its launch, Wish for Wheels has grown slowly but surely. In 2017, the organization gave away more than 6,000 bikes to grade school students across the country.
Appel said the organization expects to give away as many as 10,000 bikes during the upcoming school year, about 5,000 of which would go to Denver students.
The relationship between exercise and school performance is substantial: in 2017, an academic review of 26 studies covering more than 10,000 children suggested a strong link between physical activity and better grades. Some bike makers have suggested cycling can have the same effect as medication for students with ADHD.
When Wish for Wheels started out, Appel said, it relied on a traditional nonprofit model of collecting grants and donations to pay for the bikes it would distribute.
Now, however, it relies on what Appel refers to as "corporate philanthropy and responsibility." Wish for Wheels purchases partially built bikes and helmets from Walmart for $60 per pair. Then it sells those to corporate teams, which agree to build and give the bikes to kids, for $100 each.
"It's a double touch point of team building and community building," Appel said.
Appel said the organization has secured about one-third of the funding needed to give away 5,000 bikes in Denver this school year and seeks more companies that want to be involved.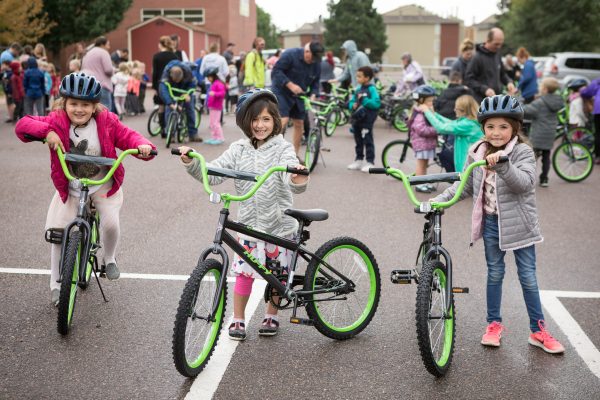 28189