Dr. Kim Adcock is a man of science. The former head of radiology at Kaiser Permanente once implemented a scorecard for how many cancers the department was missing on mammograms.
This summer Adcock turned his self-described obsessive streak toward another love: the fairways at Columbine Country Club.
In May he put the divot policy under the rigors of the scientific method. Replacing divots – chunks of turf ripped from the ground during a golf swing – was the sanctioned etiquette at the country club.
But Adcock wasn't sure this was the best way to heal fairways, so he spent 40 hours over two months studying the science of what he calls "divotry."
"I assumed when I started this that, by far, the best thing to do would be to replace the grass in the scar, and just circle it with mix to prevent the edges from drying out," he said. "I was amazed by the results, which were unequivocal."
As part of his experiment, Adcock swung his 9-iron in out-of-the-way spots around Columbine's course, creating divots of various thickness. In some of the holes, he replaced the divot and surrounded it with seed mix. Others he replaced with just the divot or just seed mix. He documented the progress of the repairs every week for six weeks.
Contrary to the club's policy, Adcock discovered that filling divots with seed mix worked significantly better long-term. Replacing the chunk of turf back in the ground – at least in summer months – resulted in the divot drying up, he said.
When Adcock presented his findings to the country club in a nine-page report, the grounds committee updated the divot protocol.
And Columbine CC takes its fairways seriously: The Heritage High School team comes and fills divots in exchange for playing the par three course. Adcock said the club holds divot parties twice a year, and has hole captains who are responsible for repairing divots.
But divot replacers can't help themselves, even confronted with his evidence, Adcock said.
"I think these deeply held beliefs are very, well, they're deeply held," he said. "It's hard to dissuade people."
The 64-year-old learned to golf growing up in Cheyenne, Wyoming. He attended the University of Rochester before transferring to the University of Oregon, where he graduated with a degree in microbiology. He attended medical school at University of Colorado, which prepared him for a career in radiology, where in just two years he read 49,867 mammograms.
"You have to be pretty obsessive compulsive to continue to search for those little bitty calcifications," Adcock said. "It was a good career, and continues to be."
He served as an executive at Colorado Permanente Medical Group. In 2002, The New York Times reported how Adcock started tracking statistics behind doctors' readings of cancer and evaluating tumor-detection accuracy.
Adcock retired four years ago, but still works at home, up to 20 hours per week examining chest x-rays for black lung in coal miners from Appalachia.
"I just enjoy being able to apply skills which you hone over 30 years," he said. "It's hard to just say, 'Okay, this is now useless.'"
Adcock also golfs. A lot. He logged 185 rounds last year, and 235 the year before that. An ideal round for Adcock is a solo session in two hours and 10 minutes flat.
"Golf is a terrible sport for obsessive control freaks," he said. "For me and a lot of other golfers, I think it's a matter of managing expectations and realizing you're not a pro. You're a hacker."
And when Adcock is not golfing or reading x-rays, he's playing a semi-concert grand piano, which he doesn't allow anyone to touch. Or, he's in his wood shop making tee markers for Columbine harvested from a honey locust tree on the course.
And, of course, he's filling in divots.
"We have members who still just say, 'I'm going to replace that divot because that's what you always do,'" Adcock said. "That's great, that's fine, you do that. And three or four days from now, I'll be driving by your divot, I will look down, I will see it, I will pull it out, I will Frisbee it into the rough, and I will fill your hole with sand."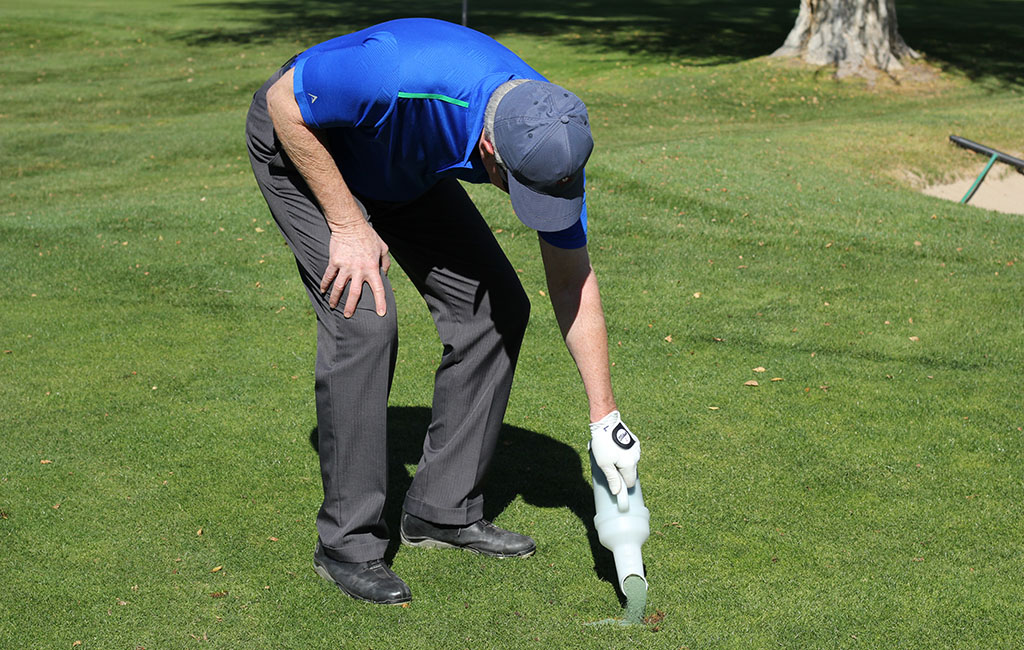 21170