An Aurora church that operates in a former movie theater plans to move to a former sporting goods store.
Colorado Community Church purchased the former Gander Mountain store at 14000 E. Jewell Ave. in Aurora in late June for $6.8 million, according to county records.
"We wanted to continue to make room for those who are coming our way, and God is bringing to us," said Executive Pastor Doug Carlson.
Gander Mountain vacated the 91,000-square-foot building on a 7.4-acre lot last year when the Minnesota-based company declared bankruptcy. Later, Illinois-based Camping World Holdings bought Gander Mountain.
Colorado Community Church is a nondenominational Christian congregation. Carlson said about 2,700 people attend one of four services on an average weekend.
The church purchased its current location, the former Cooper 5 theater at 2220 S. Chambers Road, in August 2000 for $1.1 million, according to records. Prior to that, it held services at Aurora's Rangeview High School
Carlson said the church occupies about 55,000 square feet, which includes space it leases in a nearby building.
"We've been pretty much full the last 10 years," Carlson said.
Scott McLean of Development Advisors represented the church in the sale and also is managing the design and renovation of the property. McLean said the church started looking for a new location about six years ago, but there was "nothing to choose from for years."
"There's a bigger selection of retail boxes that are between 30,000 and 50,000 square feet than there is of ones more than 50,000 square feet," he said.
One factor limiting the selection was the church's desire to stay within a two-mile radius of its current facility.
"We came to call it the 'Goldilocks zone,'" Carlson said. "We're a part of this community. We want to stay a part of this community."
The Gander Mountain property was listed for sale at $8.1 million, according to an online listing. 
Carlson said the church expects to spend $17 million between buying the property, repurposing it and adding to the existing 380 parking spaces. Carlson said the church plans to build a parking lot across the street on land it is leasing from Xcel Energy, which has a substation on a portion of the property.
The renovation of the new building will include the construction of an auditorium capable of accommodating 1,750 people for worship services. Carlson said the current facility can hold about 650 people, and typically, several hundred watch the service on screens from overflow areas.
The church hopes to move into the new facility in summer 2019. Carlson said the church hasn't finalized what it will do with its current property.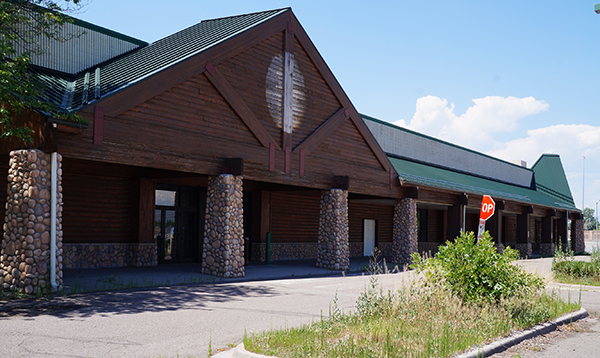 27192