Platt Park is getting a sweet new addition: a Belgian waffle sandwich shop courtesy of a Swiss-born chef and his family.
Located at 1384 S. Broadway, the soon-to-be-opened Waffle Place is already hard to miss: The Belgian flag's black, yellow and red colors stretch across the storefront. With the opening planned for mid-July, the menu will range from a glitzy array of ice cream sandwiches to classics such as chicken and waffles.
"All the sandwiches will have a wow factor," said co-owner Crystal Mdouari. "We want people to wonder how they're going eat all of it."
Mehdi and Crystal Mdouari own Euro Crepes, a South Broadway restaurant known for its dozens of sweet and savory crepes named after places they've traveled together. They also run Black Heart Boutique next door. Their new waffle venture is five blocks north of Euro Crepes.
The Mdouaris moved to Denver in 2015 after their son Zane was born. Crystal attended high school in the Denver area, but she met Mehdi in California while he was attending acting school and training under a French chef on the side.
Now, nearly three years after opening Euro Crepes, the Mdouaris are entering new territory: towering, boxy waffle sandwiches, along with "waffle dogs." Crystal said the latter are deluxe corn dogs made with waffle batter and waffle print.
Before becoming The Waffle Place, 1384 S. Broadway was Fee Fi Pho Fum, a Vietnamese restaurant attached to the Dive Inn bar. Since the 1,000-square-foot space already had a kitchen attached, most of the setup costs come from buying waffle-specific equipment.
"My husband is always trying to think of what else can we do," Crystal said. "How can we be bigger and better? He likes to give anything a try. I'm more nervous, but as a team, we can take a risk."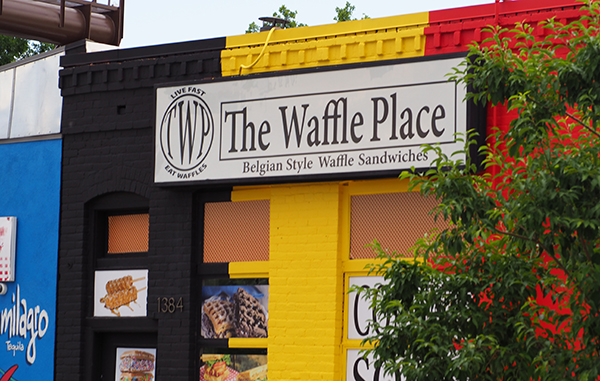 26889