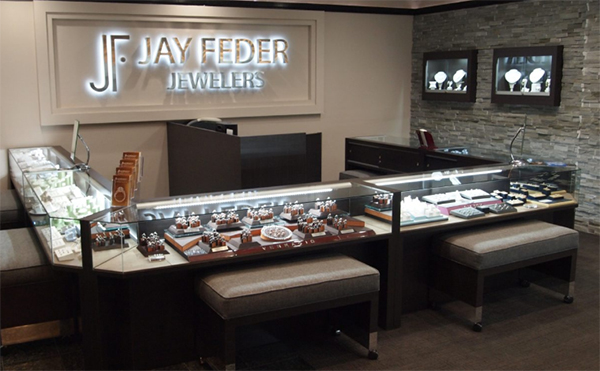 A jewelry store operating in a building along the 16th Street Mall sued three former employees who opened their own shop on a higher floor, alleging they stole trade secrets.
Jay Feder Jewelers, which has operated at 910 16th St since 1979, filed a lawsuit last week in Denver County District Court against Avraham Bulow, Stephanie Raub and Kandice Temmen and their new company, Bulow Jewelers LLC.
Bulow Jewelers opened Tuesday, according to a Facebook page. It is located in Suite 1223 at 910 16th St.; Jay Feder Jewelers has Suite 335.
The lawsuit alleges misappropriation of trade secrets, unfair competition, civil theft, slander and breach of contract.
Reached for comment Friday, Bulow said of the lawsuit, "It's mostly fabricated stuff" before deferring to lawyers Colin Barnacle and Chris Eby with the Denver office of Akerman.
"The entire pleadings are rife with material misrepresentation and fabrication … There was no theft of any trade secrets and no unlawful competition," Barnacle said.
Jay Feder Jewelers is represented by Tamera D. Westerberg and Stephanie A. Reedy of Wheeler Trigg O'Donnell in Denver.
Jay Feder Jewelers is led by Yisroel "Marc" Feder, who learned the business from his father, according to the lawsuit.
"There is no such thing as 'breaking into' the highly competitive jewelry business," the lawsuit says. "It takes substantial resources, blood, sweat, tears, knowledge and contracts to build and develop the trust and relationships with customers and vendors."
The lawsuit says Feder hired Bulow in 2010, despite the fact that Bulow had no experience in the jewelry industry, having most recently worked for a company called "Doggie Butler." He became Feder's most trusted employee, according to the lawsuit.
Speaking from Jay Feder's second retail shop in Boca Raton, Florida, on Friday, Feder said he taught Bulow everything he knew, and described the situation as "heartbreaking."
"I treated him like my own brother, my own son," he said. "Even better than my son."
"I gave to him from my heart," he added. "I also compensated him very, very well. I did everything right. In my head, I can't understand how someone would do that."
Feder hired Raub in 2004, and she spent most of her time with the company as Feder's "personal sales assistant," according to the lawsuit. Temmen, meanwhile, worked as a receptionist.
The lawsuit says Feder first learned some of his employees might start a competing company on May 10 when he was contacted by a longtime client, who said a job applicant he knew was dating Raub had indicated his girlfriend planned to leave her job and start her own business with a partner.
That same day, Jay Feder Jewelers fired Bulow "because of the actions he had taken that threatened the business and for otherwise violating his loyalty to the company policy."
Feder said Friday that he'd asked Bulow in April if he was planning to leave, because Bulow was acting strangely, but that Bulow laughed and said no.
Three days later, on May 13, Temmen resigned through written notice, according to the lawsuit. Raub resigned on May 15 after being told that Feder would want "signed written statements from the remaining company team members that they were not involved in this scheme to sabotage the Company," the lawsuit says.
Feder subsequently learned that Bulow Jewelers LLC was formed in March. The lawsuit alleges that, starting in January 2018, while working at Jay Feder Jewelers, the defendant "disregarded and ignored customer requests, dropping the ball in a deliberate effort to ruin JFJ's reputation."
The lawsuit alleges that in early May, knowing his termination was imminent, Bulow sent to his personal email addresses lists naming hundreds of Jay Feder Jewelers customers, as well as other company documents.
Barnacle, the attorney for the defendants, said Bulow did not email himself lists with customers' names in May. He said Bulow was sent a list of customers he worked with in April by another Jay Feder Jewelers employee, but only because the company wanted him to take the list home and contact the customers to let them know of an upcoming "liquidation event."
After being fired, the lawsuit alleges, Bulow "begged" Feder's wife to restore service to his company-issued cellphone. When she did so, the lawsuit claims, he sent at least 500 texts to Jay Feder Jewelers' customers, telling them he would be opening his own store and asking them to contact him at another cellphone number.
The lawsuit also accuses the defendants of stealing jewelry from the company and spreading false and harmful statements about Jay Feder Jewelers, including that the store would be closing.
Barnacle said Bulow and the other defendants deny all allegations. He said Jay Feder Jewelers advertised that "liquidation event" this spring, and that the wording may have prompted customers to believe the store would close.
Feder said the company did have a "liquidation" sale, but it was to raise money for a second retail location in Denver the company plans to open, hopefully before Christmas.
The plaintiff is asking the court to issue an injunction preventing Bulow Jewelers from operating until the lawsuit is resolved and to award damages to Jay Feder Jewelers.