Ben Dehner wants to bench porch thieves.
The Littleton resident recently launched BenchSentry to manufacture and sell lock boxes disguised as front porch benches. The bench comes with signage to tell carriers to place boxes or packages inside it, then it automatically locks behind them.
The business recently raised $45,000, according to SEC filings, which Dehner said will go toward manufacturing the benches and smart lock technology.
"Last year 11 million packages were stolen and it's growing," he said. "The camera systems are not making it better. Even if you catch someone on camera, there's very little chance that they'll get caught or you'll get your stuff back."
Dehner started working on BenchSentry two years ago after not receiving a package he ordered. Two months ago, he decided to pursue the venture full-time.
"I've just always been that person where if I see a problem I try to fix it," he said. He added that it's a hassle to decide if the homeowner's insurance, retailer or carrier should pay to replace the stolen item.
Dehner has lived in Colorado since age 2 and attended Regis University before working in sales at companies including Level 3 Communications and ReadyTalk. He said he has a patent pending for his benches.
BenchSentry has 50 prototypes at homes around Denver, six of which sold for $300. At the end of the year, the startup will release 1,000 of its final products, and Dehner said it is making smart locks that will connect with Wi-Fi and to a phone app.
BenchSentry has three full-time employees and four contractors. The startup does not have an office yet.
And while Dehner's invention complies with most HOAs, his competition is less subtle. TheBlankBox, for example, sets off a blank shotgun shell if a thief tries to lift a package left on a homeowner's porch. And other companies make lock boxes for packages.
"There's so much want for something to work that we're really excited to get it introduced," Dehner said. "Our goal is (to sell) 1,000 units for 2018, 25,000 for 2019, 45,000 for 2020, and 90,000 for 2021."
He said the units will cost between $300 and $400 once the first batch is released later this year or early in 2019.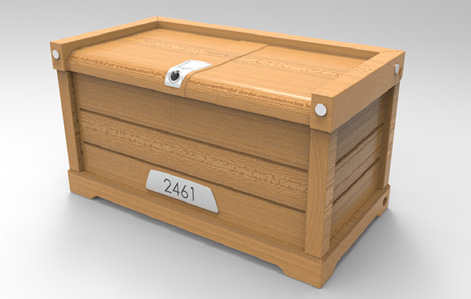 26625