Steve Fox wants to put indoor mini-golf in downtown Denver.
The founder of Urban Putt in San Francisco has pegged Denver as the next city for the mini-golf bar and restaurant concept. It is looking for $3.8 million to fund the project, according to an SEC filing.
"I did a lot of demographic and other research to find a city that has a lot of the hallmarks of San Francisco," Fox said. "What we do is something that celebrates the imagination … Denver in so many ways is a perfect site for this."
Fox said he's negotiating a lease for an undisclosed location in LoDo. He hopes to open in 2019.
"I spent quite a lot of time walking the streets of Denver trying to get a feel for things," he said. "LoDo felt great … it's not a suburban concept. We're looking for the most urban feeling."
Fox, who's lived in San Francisco since 1990, started throwing mini-golf parties with his wife where guests would bring homemade holes to his home.
"Every year it got bigger and bigger," he said. "The holes became wilder and more inventive."
Fox said examples include a hole entirely made of cheese, a three-level "Golfopoly" hole and another one featuring an 8-foot flaming tiki torch.
At the time, Fox and his wife were both editors and writers; he worked at both PCWorld and CNET. He said that after decades in the publishing industry, he was looking for a change.
He opened Urban Putt in a 9,000-square-foot old Victorian home in San Francisco four years ago.
"There was a line out the door on day one," Fox said. "We've been profitable since day one."
Fox said he's building the mini-golf holes for Denver at his workshop in Oakland, California, enlisting the same team he used for Urban Putt's first location. Prices in San Francisco are $8 for kids and $12 for ages 13 and up, according to its website.
"These things need to be rock solid," Fox said of the course. "They need to be able to withstand 8-year-old boys and 30-year-old drunks."
Fox plans to still live in San Francisco, but split time in Denver. He expects to hire 65 people for the Denver location, including a local chef and bar staff. Comfort foods, cocktails and local beer will be on the menu, he said.
"We want people to come in and say, 'Wow, I did not expect this from a mini-golf place.'"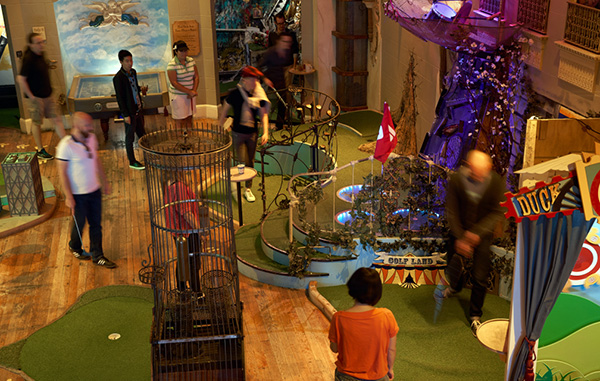 25721