Johnny Manziel wants to get paid.
A company affiliated with the headline-grabbing former Heisman Trophy winner and first-round NFL draft pick sued a Denver-based nutritional supplement company last week, saying it failed to pay him for a $1 million endorsement deal inked in 2014.
The lawsuit against MusclePharm, filed in Denver County District Court, alleges breach of contract and unjust enrichment. It was filed by JMAN2 General III LP.
According to the lawsuit, Manziel signed a three-year endorsement deal with MusclePharm in July 2014. He was to be paid $250,000 in four installments during the first year, followed by installments totaling $350,000 and $400,000 in the second and third years, respectively.
MusclePharm terminated the deal in fall 2015, having "never paid one cent of the funds it promised," the lawsuit says. Manziel maintains he should have been paid $450,000 by that point, and that the company might owe him the full $1 million because it initiated the termination.
The lawsuit implies that MusclePharm terminated Manziel's deal because of an abrupt change in business strategy. An attorney representing MusclePharm, however, said in a statement that Manziel was ousted because of his actions.
"Johnny Manziel was terminated as a sponsor of MusclePharm's products because of his now well-documented behavior, which violated the morals clause of his agreement with MusclePharm and reflects values that are inconsistent with MusclePharm's products and customers," Marc Kasowitz, with New York-based Kasowitz, Benson & Torres, said in the statement.
"We believe that his lawsuit is without merit, and MusclePharm intends to vigorously defend against his claims," Kasowitz said.
At the time he inked the endorsement deal, Manziel was two months removed from being selected 22nd in the 2014 NFL draft.
The lawsuit says Manziel's corporation "fully performed its obligations," and that the athlete showed up for photo and video endorsement shoots in addition to attending a football camp organized by MusclePharm in Arvada in 2015.
According to the suit, MusclePharm founder Bradley Pyatt created what became the company in 2008 when, months after filing for bankruptcy, he acquired the assets of a "penny stock fitness" company with minimal assets named "Tone in Twenty."
MusclePharm sales skyrocketed in following years, the lawsuit says, as Pyatt signed athletes to endorsement deals, including football player Michael Vick after his release from prison and a post-sex-scandal Tiger Woods.
By 2014, MusclePharm had gross sales of more than $177 million, the lawsuit says.
In August 2015 — a year after Manziel endorsed MusclePharm — the company announced it was cutting costs, in part by renegotiating or terminating endorsement deals. The lawsuit says this came "on the heels of an SEC investigation into the company, which revealed MusclePharm had failed to disclose approximately $500,000 to its executives for non-business expenses" and which resulted in the company's stock price falling.
The company terminated the deal with Manziel that fall.
According to the lawsuit, MusclePharm paid Tiger Woods $2.5 million and Arnold Schwarzenegger $3 million to settle those individuals' claims that it had breached their endorsement contracts. But the company hasn't responded to numerous correspondences from Manziel's corporation, the suit says.
Manziel played two seasons with the Cleveland Browns before the team released him in 2016. He's currently trying to get back into the NFL.
Despite lackluster on-field performance, Manziel has made plenty of headlines, for things like alleged domestic violence and drunk driving. In the months before he was dropped by MusclePharm, Manziel made news for heading to rehab for undisclosed reasons and throwing a water bottle at a heckler at a golf tournament.
Manziel's corporation is represented by Valerie S. Pappas and Jennifer A. Tiedeken of Denver-based Davis & Ceriani, as well as Bradley E. Beckworth, Jeffrey J. Angelovich and Cody L. Hill of the Austin, Texas office of Nix, Patterson & Roach.
MusclePharm reported last month that it had revenue of $102.2 million in 2017, down from $132.5 million the prior year. Shares of MSLP traded at $0.66 Wednesday afternoon, compared to more than $10 per share in summer 2014.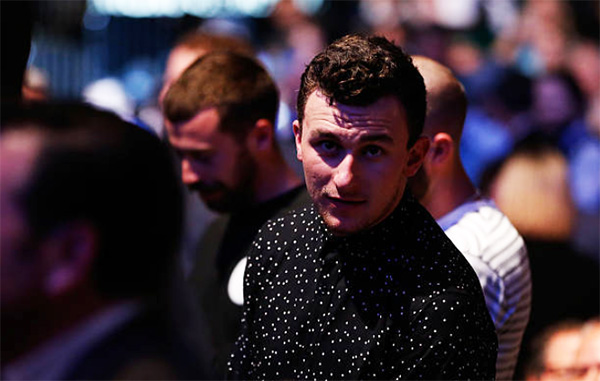 25649