A sausage factory-turned-office building in RiNo has sold for $14.85 million, or $309 per square foot.
Manchester Capital Management purchased the former Gold Star Sausage factory at 2800 Walnut St. this week, according to property records.
Manchester, which is based in Vermont, invests in real estate for high-net-worth clients, according to its website. The company was represented by NAI Shames Makovsky broker Todd Snyder.
"The location within RiNo, to me, is one of the best, being closer to the downtown side," Snyder said.
Snyder said his client also liked the flexibility of the office space and its proximity to public parking, which is used by Rockies fans on gamedays.
The property consists of five connected one-story buildings that total 48,000 square feet. The buildings sit on a 0.86-acre lot at the corner of Walnut and 28th streets.
The office space is 40 percent leased. Tenants include Solesdi USA, which operates a home furnishings showroom, and interior design firm Design Wright Studios.
The seller was Pathfinder Winfield RiNo Holdings LLC, which purchased the property for $4.57 million in October 2015. Trent Rice, a broker with NAI Shames Makovsky, said the LLC is a joint venture between Winfield Partners — which consists of him and colleague Brian Bair — and San Diego-based Pathfinder Partners.
Rice said portions of the building date to the 1930s, when Puritan Pie Co. operated at the site. Gold Star Sausage bought the property in the 1950s and added to the structure over the years.
Gold Star moved to Nebraska shortly after Pathfinder and Winfield purchased the property.
"It being so close to (Denver Central) Market, we realized the opportunity," Rice said.
Rice said Pathfinder and Winfield spent $5 million renovating the building. The companies always planned to sell, he said, but Manchester Capital proposed a deal before the property was listed.
Snyder and Rice are handling leasing for the new owner. Above-grade suites are listed at $28 per square foot per year for a triple net lease; one lower-level suite is listed at $15 per square foot per year.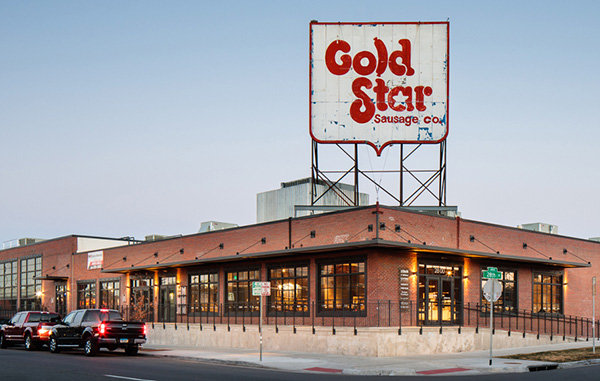 25653