Kyle Rajaniemi owns 10 pairs of skis. Until he invented a product that lets skiers easily swap bindings from ski to ski, he bought separate bindings for each pair of powder, park or groomer skis.
Now, the 29-year-old Colorado native has launched Crossover, a tool-free plate system that allows a skier to interchange bindings between skis. Rajaniemi is hoping to sell $50,000 worth of products through an Indiegogo crowdfunding campaign he launched last week.
"The funds will be used to purchase tooling so we can go to full production," he said.
So far Crossover has sold $4,000 on the campaign, which ends May 14. It priced this first run at $60 for a two-pack of plates that covers two pairs of skis.
"Our core target market is the person who's probably an intermediate to advanced skier, interested in getting a new set of skis," Rajaniemi said. "Crowdfunding was a way we could get the word out to a large group of people … and most importantly to get that feedback from the ski community."
Rajaniemi grew up in Littleton before moving to New York to attend Hamilton College. He earned a master's degree from the School of Visual Arts in New York and currently works in marketing and sales at OtterBox.
He's been skiing for more than 22 years, but about five years ago, he started noticing receipts piling up from new bindings for every pair of skis.
"This is nuts," he said. "My bike pedals and shoes can be switched and swapped whenever, and so can my surf fins."
He and co-founder Cameron Nazminia worked through eight iterations of the design to create the Crossover. Skiers can screw plates made out of glass-filled nylon onto their skis, and then slide their bindings in and out of the plates.
"Glass-filled nylon is extremely strong," Rajaniemi said. "It bends so it will move with the ski rather than a metal plate."
Right now, the plates only fit six types of bindings, including those made by Rossignol and Salomon.
"We think there is a market out there for that gear person who might be inhibited from buying another pair of skis," Rajaniemi said.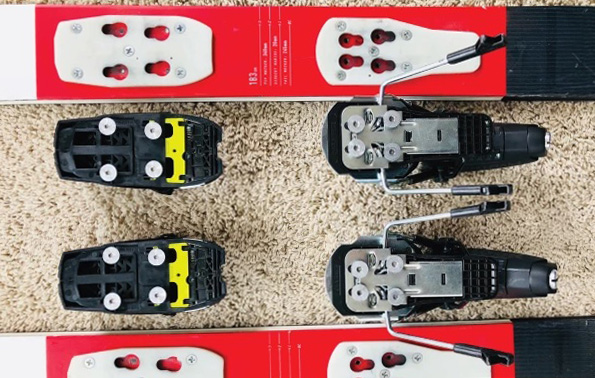 25496