A restaurant that dishes up fusion cuisine at two brick-and-mortar locations in the Denver area has booked prime real estate for a third, but don't expect the same menu.
Chuey Fu's leased 2,940 square feet at 2100 16th St., at the base of the Millennium Bridge in Riverfront Park. The space was most recently home to Irish pub McLoughlin's.
It operates as Chuey Fu's Latin-Asian Grub at 1131 Santa Fe Drive in Denver and 2950 S. Broadway in Englewood, dishing up items that blend Asian and Mexican flavors, like pho burritos and Korean beef tacos.
Owner Joe Knoblich said the Riverfront Park spot will be called Chuey Fu's Baja Cantina and feature a bar and offerings "geared more toward your stereotypical tacos."
"I'm next to another place that does poke and ramen," Knoblich said. "I think the neighborhood needed something other than an Asian-style flair."
In addition to traditional Mexican fare, Chuey Fu's Baja Cantina will have some more upscale offerings, like oysters on the half shell, Knoblich said. A weekend brunch menu will include huevos rancheros, crab cake benedict and a churro waffle.
Knoblich said the new spot will have "more of a beachy feel," compared to the artsy, industrial vibe at the other locations. It could open as early as June.
Knoblich started Chuey Fu's in 2013 as a food truck, which still runs. He opened on Santa Fe in June 2016 and in Englewood last October.
Broker John Livaditis of Axio Commercial Real Estate represented both the restaurant and the landlord in securing the lease. He said Chuey Fu's is taking up half the space that McLoughlin's had when it closed in June – the latest in a string of Denver Irish pub closures.
"The expansion of breweries has had somewhat of an impact on the larger Irish pubs, which were just beer-drinking bars," Livaditis said.
Livaditis said that, unlike nearby Union Station, Riverfront Park is primarily a residential neighborhood, and "a lot of people were clamoring to have the neighborhood bar back.
"It was really what (Knoblich) was looking to do next, which was to get into an area that had the potential for a larger bar crowd," Livaditis said.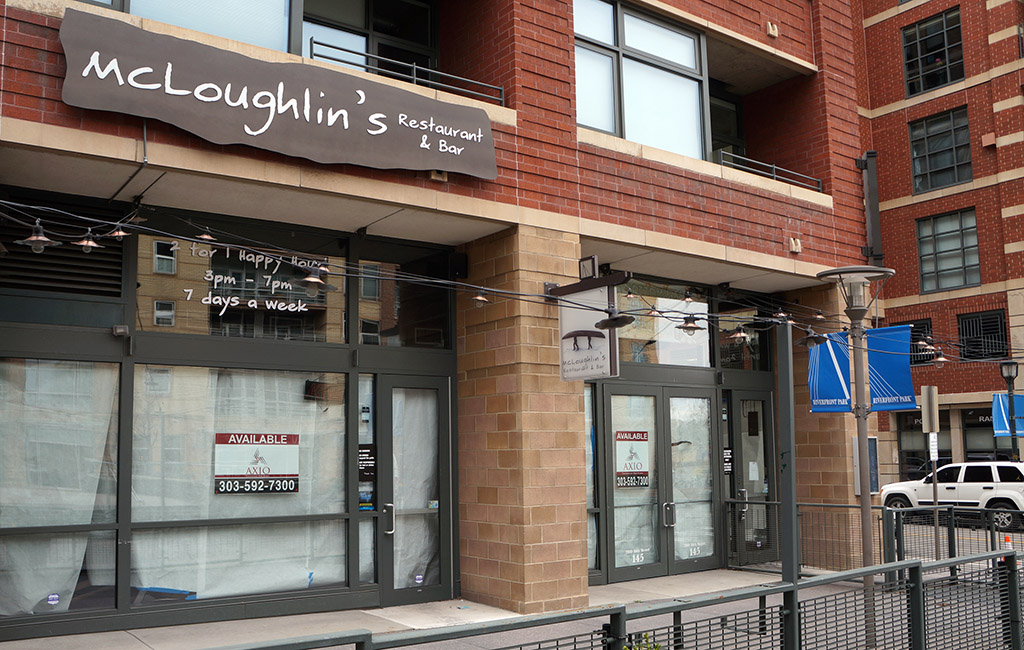 25180