It's a Kickstarter campaign attempting to stop kick starts.
Denver-based KOTA Longboards has launched a campaign on the crowdfunding platform peddling its first-ever electric longboard.
The company has sold more than $17,000 worth of the Spitfire MkV since the campaign went live March 13. So far, it has delivered 12 e-boards to customers.
The new product adds a battery pack and handheld remote control to KOTA's cambered longboards, which come with a special grip finish. It can go up to 17 miles on one charge and tops out at 27 miles per hour.
Founder Mike Maloney said the $1,300 Spitfire MkV's smooth carving ability, choice of graphics and deck grip make it stand out from other e-boards on the market.
Maloney started KOTA in 2012. Before that, he was a U.S. Navy pilot. After eight-and-a-half years of active duty, he pursued a master's degree in finance from the University of Denver.
"I was actually sitting in Jordan's Pub looking out the window," he said. "I was watching these co-eds longboarding … I asked myself, 'Why are people that are my age not longboarding as something we do as part of an active lifestyle?'"
He also noticed the longboards didn't have any camber – the upward flex in a board needed for more spring. He went home and made his own.
"People just started buying them out of my driveway," Maloney said.
By spring 2013, Maloney decided to transition from making longboards as a hobby to a business, which he named after the World War I fighter pilots Knights of the Air. In 2016, KOTA moved into a 7,700-square-foot warehouse at 1400 S. Lipan St.
Last year, it sold 900 boards.
"We are in what's affectionately called 'the valley of death,' where we're growing but not profitable yet," Maloney said.
This week, KOTA plans to launch a $400,000 equity fundraising round on Wefunder.
"People can actually invest in the company for as little as $250," Maloney said. "That gives us the budget we need to get profitable."
Also on Maloney's radar is expanding into more retailers. Outdoor company Scheels started selling KOTA boards in seven stores in February. KOTA also has sold 200 longboards to Budweiser, and has sold co-branded boards to Oakley, Ferrari and Subaru.
Other e-board makers on the market include California-based Boosted Boards, sold online and at skate shops, Indiana-based Swagtron and Minnesota-based Go LiftBoard.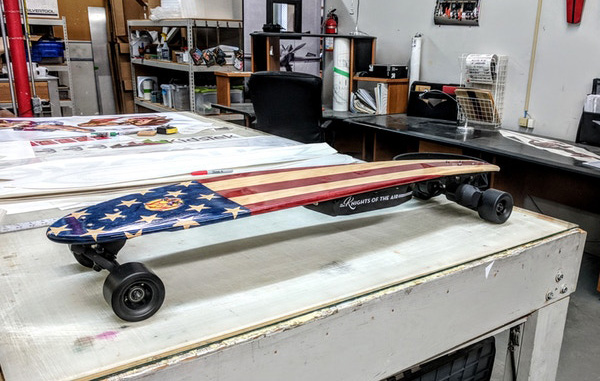 24922