The last thing Paul Hields needs — both on the mountain and in his business — is cold feet.
As the owner of Sportube, an Avon-based company that makes hard cases and soft bags for ski gear, Hields decided it was time to improve skiers' comfort by making soft bags that keep ski boots warm.
After debuting the product, dubbed the Toaster, at last year's Snowsports Industries of America show, Sportube started selling the heated soft bags last fall in preparation for ski season.
"We started about two years ago to get a number of inquiries for heated bags," Hields said. "To fully develop our soft bag line, we needed to bring a heated boot bag to the marketplace."
The Toaster is big enough for one pair of boots and other ski accessories, such as a helmet and gloves. The Toaster Elite is a slightly bigger version that can fit two pairs of boots. The bags cost $230 and $250, depending on the size.
"What's nice about it is you can warm the bag at home," Hields said, adding the soft bags can plug into standard and car outlets. "You start the morning off with a pair of warm liners."
Hields, who's from England, immigrated to Vail in 1990 after falling in love with Colorado skiing six years prior. He worked at Gorsuch before launching Sportube in 1995 as a manufacturer of hard cases for skis, snowboards and fishing equipment.
"For 20 years, we were known as the hard-case company," Hields said. "I spent 20 years of my life trying to convince everyone to use hard cases. (But) not everybody in the world wants to use a hard case."
Five years ago, Hields decided to start making soft cases for outdoor sports, as he realized the company needed a wider selection of bags.
Sportube's heated bags are available at five Colorado ski shops, including Double Diamond Ski Shop in Vail and Fuxi Racing at Copper Mountain. The bags are also available on Sportube's website, Amazon and Colorado-based Ebags.com.
"Heated boot bags are a growing trend," Hields said. "There are more skiers that are traveling from Denver. Any skier that doesn't have a locker at the base of the mountain benefits from a heated boot bag."
Sportube manufactures its heated boot bags in Vietnam, while the hard ski cases are manufactured in Michigan. Other companies such as Transpack and Kulkea also sell heated boot bags.
"Some of the materials we're using are lighter while still strong," Hields said, including zippers and shoulder straps that make the bag more comfortable to carry.
In addition to the heated bags, Sportube also is introducing four new bags to the market, including a large one for airline travel.
The company employs five full-time staff members in an 800-square-foot office in Avon.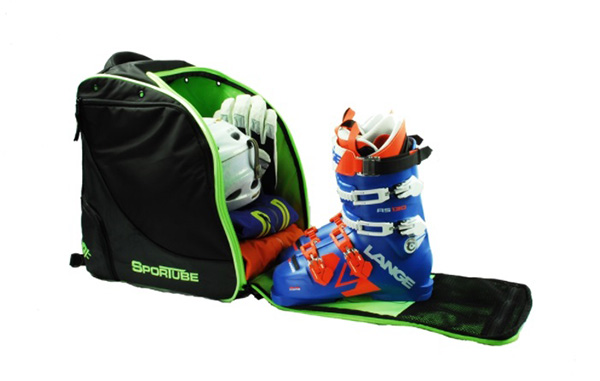 23074