Keith Zaring is on a quest to paddle on dry land.
The owner of AKZ Paddle Co. has been perfecting stand up paddle boards built with wheels. AKZ recently secured a design patent on the models, which it applied for last July.
While Zaring is not the first person to try land paddling — using a long pole to propel a skateboard or longboard — his boards use large, thin wheels and are wide enough to stand square to the board, instead of sideways.
"Those boards aren't as wide as mine, nor is anyone using wheels as tall as mine," he said. "These wheels are specifically designed for land paddling."
Zaring, 52, started AKZ in 2015 when he needed a way to train for paddle boarding during the winter.
"I was feeling my Cheerios a little bit and thought, 'Maybe next year I'll race,'" he said. "(Now), there is a lot of beer that should be sitting on my waist and it's not."
Zaring grew up in Colorado before joining the U.S. Army and then moving to the Pacific Northwest. He moved back to Colorado in 2004 and works as an auto broker in Greenwood Village. He hopes to make AKZ his full-time gig next year.
Zaring experimented with boards until developing ones that are more than 20 inches wide but still have flex and steering control.
"I got them out to Wash Park a couple times," he said. "It's an intimidating thing to take something that giant to Wash Park. I'm sure I was red in the face."
AKZ has sold about 50 boards this year, retailing for $270 or $345 on its website. But Zaring said he hasn't been pushing sales too much yet.
"I am just a product becoming a business," he said.
He's put $60,000 into the company. AKZ boards are selling at Surf'SUP Colorado in Morrison and BoardLife on South Broadway, and the Country Club Towers apartments bought six boards for residents near Wash Park.
AKZ sells land paddles from Sk8Pole in Columbus, Ohio.
With larger, thinner wheels, AKZ boards can glide more easily than a longboard or skateboard, Zaring said, but it doesn't detract from the physical challenge.
"It is a bear of a workout," he said. "After paddling for a bit offseason and then getting on the water, I felt like a monster."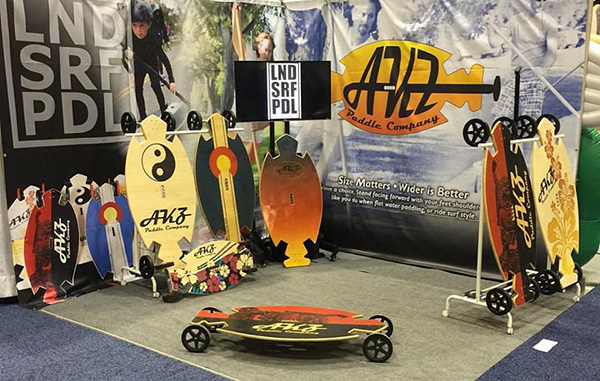 22756