Tenant rep firm Savills Studley has moved its Denver office a block down 17th Street, more than tripling its space.
"A real important piece of that was getting into a space where almost everyone can see everyone else from where they sit," executive vice president and director Rick Schuham said.
Another key feature was that every employee now has views of the mountains, he said.
Schuham said the firm signed a 10-year lease for 8,500 square feet on the 23rd floor at 1125 17th St. Employees began working out of the new space this month.
The firm's previous office, on the 16th floor of 1050 17th St., was 2,500 square feet.
Schuham represented the firm in the transaction. He said Savills Studley has 21 employees in Denver, up from three a year ago.
Savills Studley tapped RNL to handle design and architecture for the new space. I2 was the general contractor.
The company began operations in Denver in 2001. Two years ago, it had about 10 employees split between two offices. In fall 2015, the firm closed the office in the Denver Tech Center, reducing its local headcount.
Since then, Schuham said, it has focused on ramping back up.
New hires in the last year include Todd Roebken and Greg Bante, both formerly with JLL; Brendan Fisher, formerly with Cresa Denver; and John Hammett, formerly with Cushman & Wakefield.
Schuham said Savills Studley expects to grow to 30 people in Denver.
Schuham said the firm narrowed down options for its new office to six, and asked employees to vote.
The 1125 17th St. building, which has 492,800 square feet across 25 floors, is topped with signage for Chase. The property was purchased by a Goldman Sachs real estate entity this year for $169.7 million.
The new owner is renovating the lobby and other common areas, which Schuham said feels appropriate.
"We have reemerged, and the building is going to reemerge too," he said.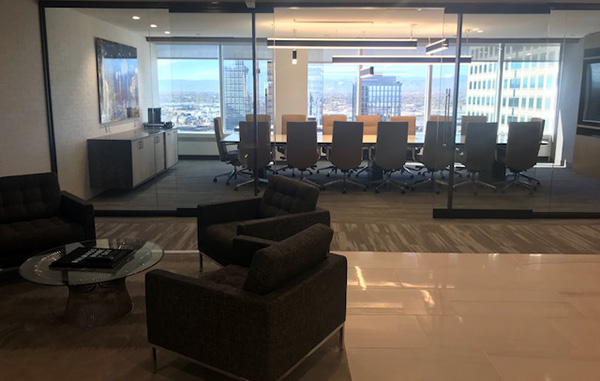 21299