Sip-and-paint classes are starting to see some smoky new competition.
Although the boozy version is a quickly growing trend, cannabis painting classes are more of a slow burn. Two Denver-based businesses have laid down the first brush strokes.
Self-employed artist Heidi Keyes first started offering painting classes in her home after recreational legalization in 2014, while at the same time, Michael Eymer was looking into creating a tourism business around the new cannabis market. The two came together that year to launch Colorado Cannabis Tours, which became the parent company for Puff, Pass and Paint.
Colorado Cannabis Tours offers tours of the local industry, including a tour of the Medicine Man dispensary grow and glass blowing, and helps tourists find pot-friendly hotels and navigate Colorado laws.
The pair built the business to help educate tourists on safe and legal consumption in the state, but in laid-back environments like art classes, which can accommodate 20-40 people.
"A lot of people don't even know where to begin," Keyes said.
The success of Puff, Pass and Paint has allowed Colorado Cannabis Tours to expand to other mediums like pottery and cooking, Keyes said. The company also has expanded into other states with recreational sales – Washington, D.C., Oregon, Nevada and California. Keyes said she recently relocated to California to help launch new wine and pot tours.
"It's pretty neat the diversity of (the classes)," she said.
The company hired a lawyer to keep up with varying state regulations. Keyes said Seattle is difficult for the company to get into because of regulatory boundaries, and that the industry has changed significantly since legalization.
"You can be operating completely legally in one moment and then there's a new regulation," she said.
Another cannabis painting entrepreneur, Sarah Woodson, soft launched Kush and Canvases in 2016, and it became fully operational on the 4/20 holiday this year. Classes cost $50 and customers bring their own bud. She runs two full classes a month, but hopes to do one a week once more customers join. Woodson said classes fit between 12 and 18 people.
Previously, Woodson owned On My Own, a Denver bankruptcy and divorce advisory service. She closed the business this month, jumping fully into the cannabis industry.
"I was just really interested in it based on the entrepreneur aspect, but I don't smoke marijuana," Woodson said.
Both businesses start with some smoking time before the painting class. Similar to sip-and-paint programs, the teacher leads a project that can be done by any skill level. Keyes said consuming marijuana before painting helps customers relax creatively.
"It's really about encouraging creativity," she said. "People think that making art is something that's overwhelming."
Regulations help to keep both Keyes and Woodson on their toes. Both firms' classes must be on private property, and patrons must be over 21. Keyes said her customers receive a location after purchasing a ticket. Woodson said that since her classes are offered in a neighborhood home, customers must sign a waiver stating they'll limit consumption.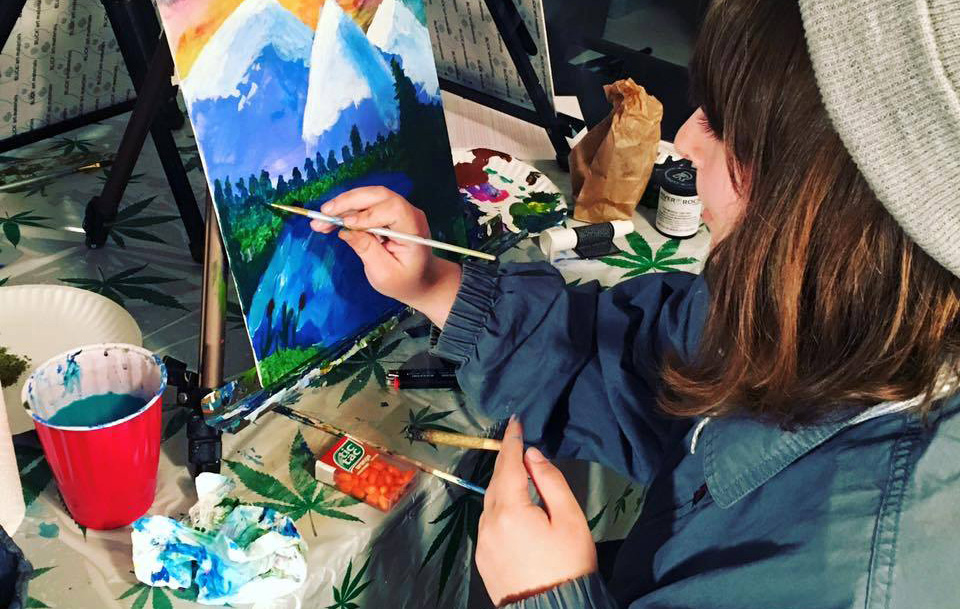 20573