Plenty of coworking, not enough "co-making."
So goes the thinking behind SolderWorks, a new shared workspace under construction in Westminster. Its founder, Rich Walsh, is pitching the concept to entrepreneurs that need amenities like a 3-D printer and soldering gear to test ideas for hardware devices connected to the internet.
Walsh calls the concept "co-making," a nod to modern-day tinkerers that use the title "maker" over, say, mechanic. Much like software startups that can edge out larger competition, Walsh believes these entrepreneurs can work faster than large-scale manufacturers.
That is, if they have access to a space like SolderWorks.
"The ability to turn around a smart-home device from an idea to a prototype that you can put in front of a couple of venture capitalists in a couple weeks," Walsh said, "is going to be unheard of for a corporation whose production lifecycle is a matter of months."
Walsh runs an IT consultancy, SmartSource Management, but recently has found himself futzing with circuit boards and device manufacturing, too. He said learning the trade was more time- and money-intensive than it would have been with the right equipment, since he had to order prototypes from overseas manufacturers.
"It only cost me a dollar per board, but it cost me $20 in shipping to get them back from Shenzhen, China, and two weeks later," he said. "I could have been done with the circuit in a total of four hours."
Walsh says many would-be device makers are people like him, with the desire to learn more but without the tools to try.
"I can sit down and learn how to write JavaScript, but can I sit down and write JavaScript to get this green light to turn on?" he said. "That's a big bridge to cross."
SolderWorks will have laser cutting and etching equipment used to prototype a circuit board in one room and, next door, a 3-D printing room that can make the enclosure to house a circuit board. Finally, there will be a soldering room, where customers can see if their prototype works by attaching their board to components like LED lights and the 3-D printed enclosure.
Walsh also aspires to host how-tos and tuition-based programs teaching customers basics about electronic circuits and how to program devices.
Walsh is looking at a minimum of $700,000 in startup costs, including equipment. He's primarily self-funding, with a lease-to-buy financing deal on some equipment and fixtures. Kestrel Design Group is the architect and Delta Construction is the general contractor on the project.
SolderWorks started renovating an existing building at 6060 W. 91st Ave. near the planned Downtown Westminster redevelopment at the end of July. Walsh imagines that his business and other early tenants will move in by Sept. 5.
The shared space can accommodate 90 tenants, Walsh said. Night-and-weekend access is $250 per month and dedicated desks start at $500 per month. Tenants also can sign up for access to shared spaces or rent a private office for a group.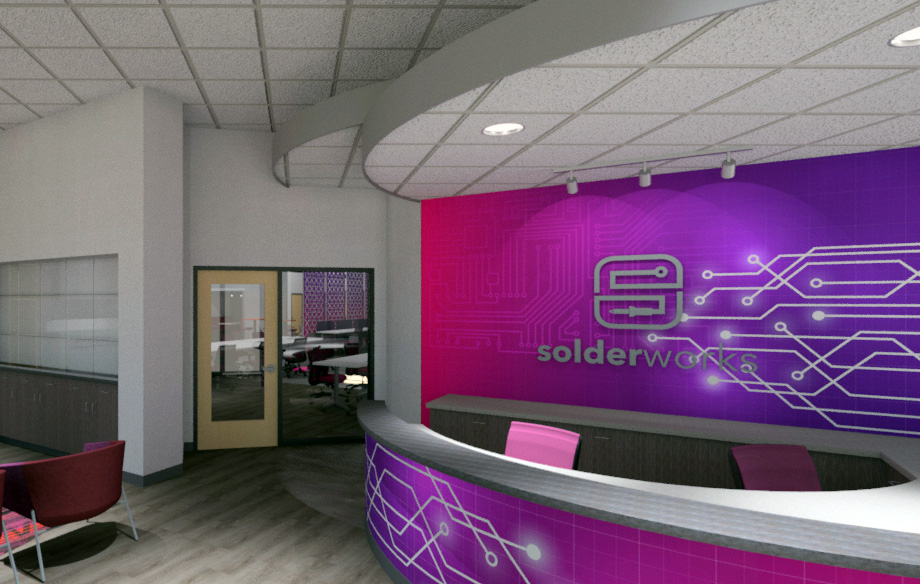 19486