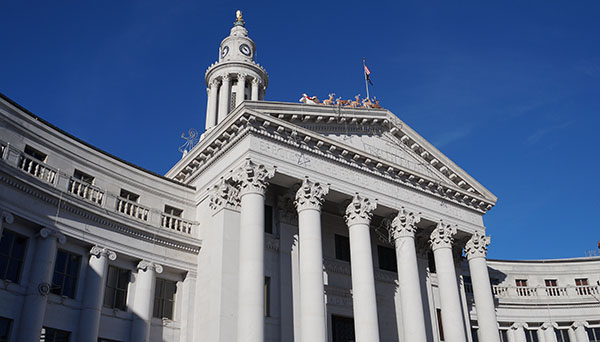 A Denver law firm is swinging back at two former partners it says snatched confidential information on their way out the door.
Reilly Pozner in June sued husband-and-wife lawyers Eric and Wendy Fisher for theft, civil conspiracy, misappropriating trade secrets and breaching a confidentiality agreement. The Fishers replied on July 17, saying the countersuit is riddled with false statements and intentional mischaracterizations.
The litigation and trial practice firm is jabbing back at its former partners more than a year after the pair sued Reilly Pozner, saying their bosses fired them to hoard the spoils of a $390 million jury verdict. That lawsuit has been stayed while RP appeals a Denver District Court decision denying its motion to compel arbitration.
RP now argues that the Fishers absconded with confidential information from the firm before their termination. It says the couple accessed RP files from their home computer and took 37 bankers boxes of client files out of the firm's office.
"After the (employment) lawsuit was filed, RP discovered the scope and breadth of the confidential information taken by the defendants, including efforts by the defendants to conceal their conduct by describing some of this confidential information as 'personal' when they took it," RP alleges in the suit. "The defendants used the information they took from RP in a manner that was detrimental to the best interests of the firm."
In its lawsuit, filed June 5 in Denver District Court, RP claims that the Fishers stole company information so that they could build a case in their lawsuit and hide evidence contradicting their arguments. RP also alleges that the Fishers attempted to poach RP clients and conceal embarrassing professional information.
It also argues that the Fishers' misconduct rebuts their claims of wrongful termination. It says the former partners' actions are "after-acquired evidence" that would have justified firing them had the firm known of their actions at the time.
RP is suing for damages and seeking injunctions ordering the Fishers to return confidential information as well as their personal computer and computer hardware to RP.
And the firm is trying to consolidate the Fishers' suit as well as its countersuit into one case. Its aim is to move both into arbitration, citing the terms of its employee handbook.
RP is represented by Stephen C. Peters with Peters Law Firm. Peters did not return a message seeking comment.
The Fishers were among a group of attorneys that founded Reilly Pozner in 2010 alongside its named partners, Dan Reilly and Larry Pozner.
The pair since have landed at new jobs. Eric Fisher is a member at RBF Law in Greenwood Village. Wendy Fisher is general counsel at Grease Monkey International.
In their 2016 employment lawsuit, the couple said Reilly and Pozner promised them "life-changing" payments from contingency fee work the firm had funded using hourly revenue for a decade.
Instead, the couple claims, RP bilked them of their expected cut and laid them off without warning shortly after the firm won a $390 million verdict. The Fishers allege that their former bosses fired much of the firm so that they could hoard the money to buy oceanfront properties and pay off the company's line of credit.
In a reply to RP's lawsuit filed this week, the Fishers say that after they received notice of the layoff, RP helped them to download data from the company computer network and provided them with boxes, supplies and building access so that they could pack up case documents.
They say their actions to save documents as they exited RP were within the bounds of Colorado Bar Association guidelines – and other fired RP attorneys did the same. They say the countersuit is "retaliation" for their employment lawsuit and refusal to sign a severance agreement.
The Fishers also allege that the firm is trying "to threaten" them by including excerpts from "irrelevant, personal emails" in its complaint.
The Fishers are represented by M. Gabriel McFarland with Evans & McFarland. They are seeking to withdraw RP's complaint and oppose its motion to consolidate pending a ruling by the Court of Appeals.
RP has shrunk since its days of nine-figure payouts. Its website once listed 28 employees, but now is down to just seven. And the firm has left its old office on the top floor of 1900 16th St. for a suite it shares with other law firms in the Wells Fargo Center.