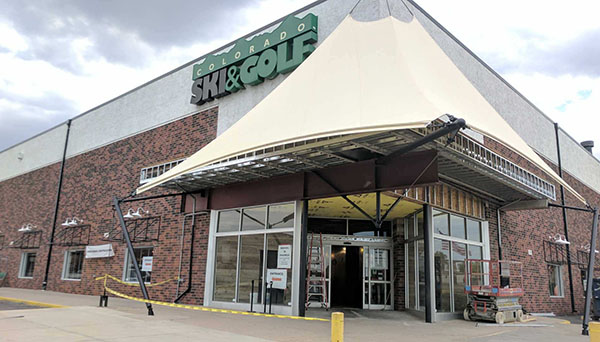 Colorado Ski and Golf is pouring more than $400,000 into its biggest and most lucrative store.
Vail Resorts, which bought the five-store chain from Gart Cos. in 2010, is updating the face and interior of the 35,000-square-foot store at 2650 S. Havana St. in Aurora.
"After the better part of 15 years, it had gotten so much traffic because it's our No. 1 volume store," said Randy Bush, regional manager of Colorado Ski and Golf. "If your facility is not inviting, it almost forces a customer's hand to look online."
Renovations include adding more glass at the front of the store and replacing the outdoor awnings, as well as new paint, carpet and fixtures. The store also is installing rustic wood siding on some of the walls and panels to give it an outdoorsy vibe.
Bush also said slight layout changes will give the store more breathing room for its hectic areas, such as ski rentals and the children's ski trade program, where parents can exchange ski gear for bigger sizes each season. The new layout also will allow the store to transition more easily between seasonal inventory, Bush said.
Hyder Construction and Todd Architecture were hired for the renovations, which will cost approximately $425,000, according to a building permit from the City of Aurora. The store is keeping its same hours of operation throughout construction, which started in mid-May and will be completed by Aug. 30.
"I think that because this was overall our slower time of the year, it was up to us as purveyors of guest services to make sure they find what they're looking for," Bush said. "We tried to mitigate any noise or negative exposure for the guests."
Ninety percent of the store's business comes from selling winter sports gear, such as snow coats and pants, skis and snowboards, as well as rentals. After the renovation, Bush said the store will reduce its number of golf displays but maintain the same golf inventory.
"The golf area of the store always constricts in the winter dramatically," Bush said. "There are not too many people that invest a lot of money in (drivers and putters) once you get into winter."
The store employs 80 to 85 people. In addition to the first-floor retail and rental business, the second floor houses offices for other employees, including the regional buying team; that floor will be renovated. The third floor houses the warehouse and is where the store plans its big events, such as the Ski Rex sale, every year.
As of now, Bush has no plans to renovate other Ski and Golf stores, which are located at Lone Tree (Park Meadows), Colorado Springs, Littleton and Arvada, according to its website. In addition to Colorado Ski and Golf, Vail Resorts also owns Bicycle Village stores along the Front Range and Boulder Ski Deals, the website says.