For the past year, a Telluride artist has been busy sculpting the perfect mat for bedding down on the road.
Daniel Kanow, an outdoorsman and sculptor in Telluride, founded LaidBack Pad as a portable memory foam sleeping pad that rolls up into a ball for easy storage and transport. Now, he's gearing up to release a second product for retail later this summer.
"This isn't a backpacking pad," Kanow said. "This is for car camping, or to have extra beds in an Airbnb or in a hotel … I was able to figure out making something that's as comfortable as a bed."
LaidBack Pad comes in one size that is 2 feet wide and 6 feet long, rolling up into a cylinder that's 2 feet by 1 foot and weighing 8.5 pounds. Due to customer requests, the company is making another pad that's about half a foot longer and wider.
"I've been asked by a lot of men in particular," Kanow said. "When you put two pads together, it's the same width as a queen-size bed. People want stuff bigger. It's a different demographic of people who buy expensive gear."
For Kanow, 45, getting LaidBack Pad off the ground has been a long journey. While studying art at the University of California, Santa Cruz, Kanow spent a few years living in a redwood forest next to campus instead of paying rent on housing.
"That got me into that adventure style of sleeping outside a lot," said Kanow, who has since spent time as an outdoor guide, rock climber and mountain climber. "As I got older, I started to get some further back issues … I thought, 'I'm going to make the most awesome memory foam pad, because it does not exist.'"
He spent 10 years researching and developing the LaidBack Pad. The result: a product that is two and three-eighths inches thick with a fleece top and a water-resistant fabric on the bottom.
Now, LaidBack Pad is Kanow's part-time job. The firm has sold 1,500 sleeping pads since launching sales on Amazon a year ago.
The pads are manufactured in China and assembled in California. Kanow said 90 percent of sales are through Amazon for $209 per pad, but he also sells them in Telluride retailers Jagged Edge and Bootdoctors, as well as the Great Outdoors Company in Montrose. LaidBack Pad stores some products in Telluride, but the majority are stored in regional Amazon warehouses nationwide.
Kanow said LaidBack Pads has competition in the camping pad market from Washington-based Therm-a-Rest, Utah-based Teton Sports and PacoPads, among others.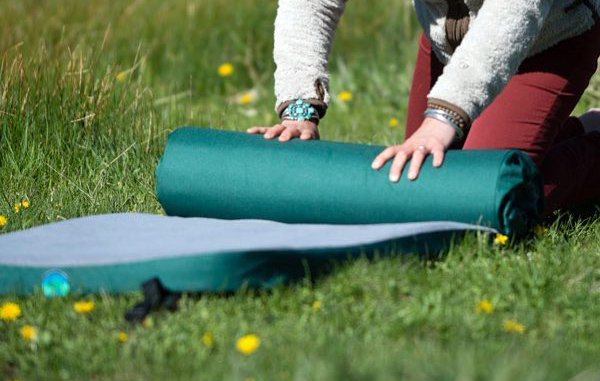 18101