Stapleton's master developer is readying its first foray into Central Park Station.
Forest City Stapleton on Tuesday unveiled plans for a transit-oriented development on a 6.2-acre block south of the Stapleton light rail stop. Senior vice president Jim Chrisman said the office, retail and multi-family project will cost $150 million to develop. It's on track to break ground in March 2018.
Chrisman said the six-story, 190,000-square-foot office, Central Park Station One, will attract tenants that would otherwise look downtown when it opens in fall 2019.
"People want access, they want housing choices for employees, they want restaurants, amenities, a substantial parks and open-space system," Chrisman said.
Chrisman has been thinking about Central Park Station since the light rail stop was just a dot on the Stapleton master plan, which he co-authored in 1993.
Central Park Station One, which is designed by KTGY, will sit at the northwest corner of 37th Place and Uinta St. The western side will frame a plaza facing Uinta. Chrisman said the plan is to put retail on the ground floor, so that a tenant like a restaurant or fitness studio could open glass doors out to the plaza.
Saunders is the general contractor for the development. Tim Harrington, Mike Wafer, Alan Polacsek and Eddie Kane with Newmark Knight Frank will market the office and retail space.
Forest City also is sketching plans for the rest of the parcel, which is owned by the city.
Immediately south of Central Park Station One along East 36th Avenue, Forest City is planning 300 apartments. Chrisman said the company is in talks with a hotel developer for the eastern side of the property overlooking Central Park Boulevard. On the north side along 37th Place, Forest City has left a development site open for a smaller office, restaurant and retail space.
Plans for the block provide for 665 parking spaces.
The Central Park Station TOD will cover 4 million square feet on 70 acres when complete, according to its master plan.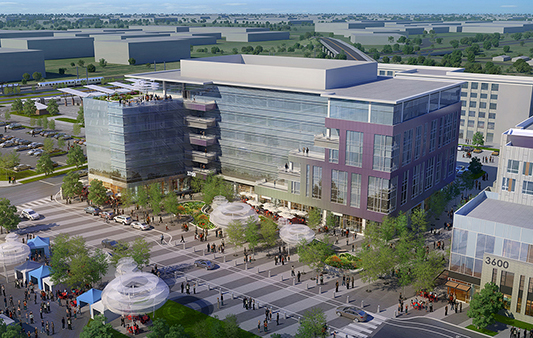 17426