Thor Tingey has paddled hundreds of miles since his excursions in a $70 Walmart raft through the Alaskan wilderness 17 years ago.
Now, he builds his own packrafts – lightweight boats that inflate in 60 seconds and can roll into the size of a Nalgene bottle. Not to mention they keep him (mostly) dry in whitewater.
His raft company, Alpacka Raft, located in Colorado's southwest corner in Mancos, is one of the oldest packraft companies in the world and is paddling to bigger waters.
Alpacka recently moved into a 12,000-square-foot production facility at 192 S. Main St. twice as big as its previous shop, hired more employees, and released new boat designs.
"I really wanted to get us into a space where we could have all manufacturing and administration under a single roof and have more natural workflow," Tingey said. "We knew we needed more space … we were stumbling over ourselves in our old space."
Apacka has hired six new employees in the last year. Sixteen of Tingey's 20 employees handle manufacturing the rafts, which range from $595 to $2,445, according to the company website.
Alpacka moved to Colorado in 2007 after six years in Alaska, where Tingey, 38, grew up. While attending Colorado College in the late 1990s, he received a grant to traverse 200 miles of Alaska wilderness with a $70 Walmart raft and backpacking gear. The following summer, on a 700-mile packrafting excursion, Tingey became even more passionate about the small, portable boats.
"It was very close to life-changing," he said. "This is a really cool way to travel. You can use rivers and lakes to your advantage rather than some big impediment."
Tingey's mother, Sheri,  designings the packrafts. A lifelong boater, Sheri had a background in outdoor design and made a few prototypes of the rafts in her Alaska basement in 2000.
Alpacka Rafts moved to Mancos 10 years ago so Sheri, 71, could be closer to family and nearby waterways.
Sheri ran the day-to-day operations of Alpacka from 2004 to 2016, when she resumed designing rafts, while Thor came on full time a year ago.
Tingey said the sport of packrafting is little known, but there are signs it's gaining steam, including the formation of the American Packrafting Association in 2012. He said Alpacka was the only manufacturer of packrafts until 2008, but now there's competition from 10 others worldwide, including Denver-based Kokopelli Packrafts.
"People are getting more adventurous," Tingey said. "They are wanting to do trips that only a packraft can do."
The sport's growing popularity is partially due to improvements in the rafts that allow for better maneuverability and flotation.
"There was a lot of suffering in packrafting. You get really wet and really cold," Tingey said. "But I regularly run class 4 rapids and still stay relatively dry, and I couldn't even have fathomed that 10 years ago."
This year, Alpacka rafts are improving designs, including a new stern with a pending patent, which Tingey said is more stable and predictable in whitewater.
Alpacka rafts come in seven models, but depending on size, color and build options, Tingey said the company can make 1,600 variations.
The smallest raft weighs 2.5 pounds and rolls into a small cylinder. Tingey recently took the heaviest 13-pound model on an excursion with two people, two dogs and more than 200 pounds of gear.
Alpacka Rafts are available online and at retail locations in Alaska and Montana. Tingey also plans to open a retail section at the new facility.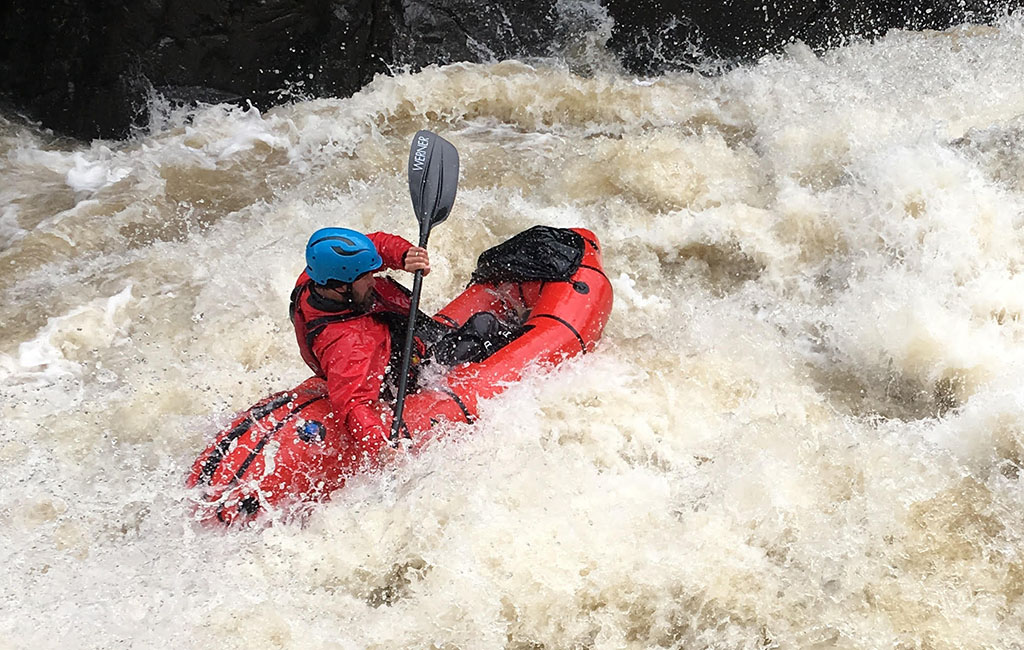 16884