Jack Harper lasted just a few months trying to convince police departments to buy digital fingerprint scanners the size of ATMs before he realized he had a problem.
"I knew a lot of police chiefs," he said, "and they were constantly complaining."
Their biggest beefs: The kiosks were too large and expensive at around $35,000 a pop. With two decades of software engineering experience, Harper thought he could do better.
Seven years later, Harper's company Secure Outcomes makes a device he says is half the price of the competition and, at about the size of a phone book, much smaller. But he's not satisfied.
"What I'm doing is pushing it even smaller," Harper said.
That is the subject of Harper's latest patent, issued Feb. 14. Harper says his competitors haven't been able to produce scanners as thin as an iPad because their designs are too impractical to manufacture.
Specifically, silicon sheets big enough for a full handprint have a high rate of manufacturing defects. Harper's recently patented solution works around those defects by letting groups of silicon cells cast a vote. If the majority of cells in a group sense a fingerprint ridge, they overrule neighbors that say otherwise.
"That way, you have defects all over the place in there, but that's OK because we have this digital voting logic throughout," he said.
The patent is another milestone for a business that booked $1 million in sales last year. Secure Outomes has sold 250 machines in 35 states, and Harper says there's room to grow. He plans to raise $2 million, which will be used for sales and marketing.
"My goal is to grow the company to $100 million in revenue in five years," Harper said.
Secure Outcomes' eight full-time employees assemble each machine at its headquarters in Evergreen. The scanners are sold at two prices: $8,000 for a fingerprint scanner that plugs into a laptop through a USB port for civilian use, and $14,000 for a fingerprint scanner that law enforcement agencies can bolt down at a booking desk. The company is developing a full palm print scanner that would sell for $25,000.
In addition to small police departments still using ink and paper, Harper thinks his lower cost will attract civilian customers in professions that require handprints as part of background checks, like truck drivers, mortgage brokers or doctors.
Another goal for the future is increasing accuracy.
Secure Outcomes is developing a feature that would make it easier for the machines to wrest a high-quality print from difficult-to-read hands by letting each scanner connect with its counterparts in other places.
For example, a machine in hot and humid Houston that just scanned a clammy hand could query other machines that have encountered the same conditions. Or a machine scanning a hand worn down by manual labor could see how other scanners captured similarly weathered hands.
Those features could come in handy as Secure Outcomes vies for market share against a pair of much larger competitors. Safran Identity and Security had sales of $2 billion in 2015, and Cogent is a wholly owned subsidiary of 3M.
Harper doesn't expect to court any buyout offers yet.
"I don't think we're on the radar of any of those companies," he said, "but I would argue that our products are far better."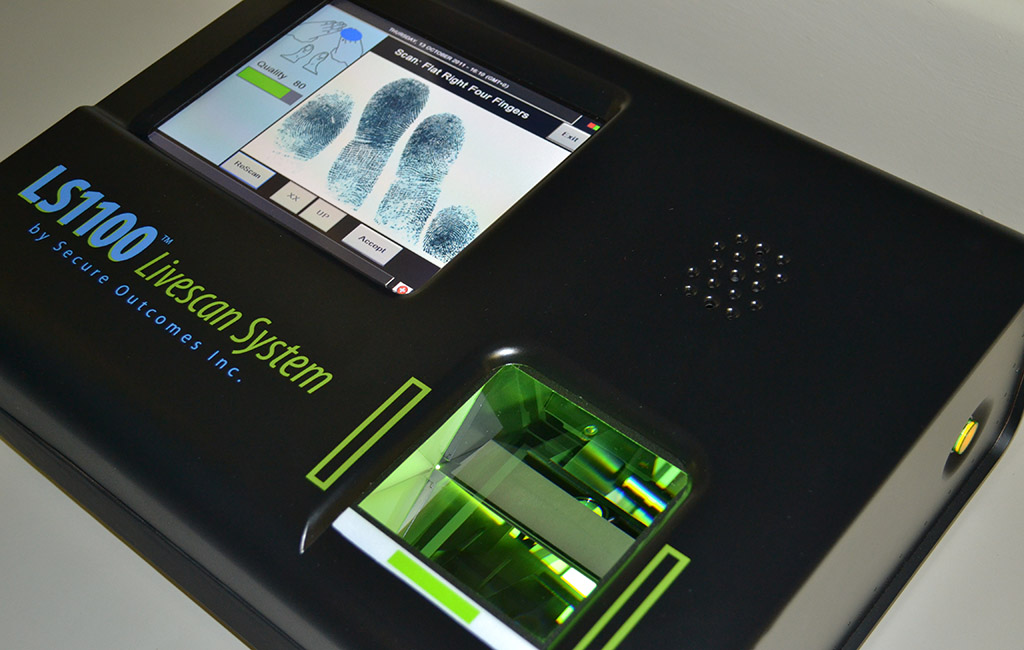 15151