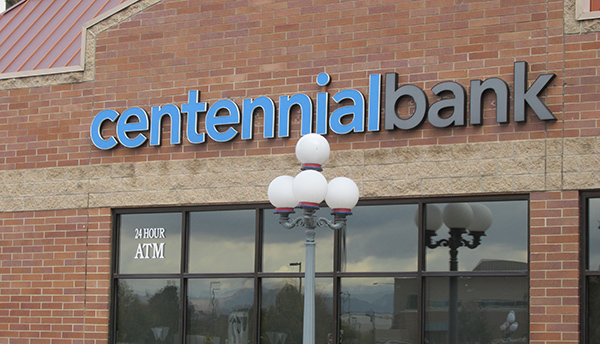 For two banks that grew up in the shadow of the Rockies, size matters.
Centennial Bank and Trust chairman Kevin Ahern said that's the biggest reason why – following the $203 million merger with Citywide Banks announced this week – the round blue lettering at 17 Centennial branches will likely flip to the Citywide sun soon after the deal clears shareholders and regulators.
The two banks hope to combine assets to spend less on certain expenses than the separate institutions are paying now.
"Interest rates are relatively low, and that puts pressure on banks," said Ahern, leading to consolidation. "And we've been spending a lot more on regulatory compliance, and those are fixed costs."
The merger marries 53-year-old Citywide Banks and its $1.4 billion in assets to Centennial, a bank 44 years its junior. It also brings family-owned Citywide under the umbrella of bank holding company Heartland Financial USA, a publicly traded firm with operations in 12 states, which bought Centennial Bank's holding company in 2015.
The combined firm, technically a merger of Citywide and Centennial Bank parent companies, will have $2.3 billion in total assets and 29 locations. Kevin Quinn, president and CEO of Citywide, will keep his title at the combined company. Ahern will be its chairman.
Prior to this merger, Citywide stayed largely in the hands of the family whose patriarch, Vince Schmitz, co-founded it as Aurora National Bank on Colfax Avenue in 1963.
Quinn, who joined Citywide in 2009, said joining hands with a larger company was a "pretty big emotional decision that doesn't come easy." In Heartland, Vince's son Marty Schmitz saw a business partner that "looked very much like us," he said, because of its roots as a closely held bank in the 1930s.
Marty said the family recognized that it was too risky to have its wealth tied up in one asset. In the merger, he said, Citywide shareholders will have more diversified holdings through Heartland Financial's 12-state reach.
Another point of harmony was the banks' branch locations. Centennial Bank extends to the mountain resorts along Interstate 70, while Citywide is concentrated around metro Denver.
"There are a handful of branches that are closer to one another, so we'll evaluate over time," Quinn said. But to start, there are no plans to close any of either company's storefronts.