Setting its sights on San Francisco's booming housing market, a Denver startup that lets homebuyers virtually tour properties has raised $325,000.
Walkthrough takes 3-D scans of houses, then turns each into a virtual tour. Potential buyers can slip on a virtual reality headset and walk around each house, using a joystick to skip upstairs and across rooms when they run out of space in real life.
Walkthrough co-founder Pascal Wagner, 26, said the company is in a footrace against other startups using virtual reality technology in real estate.
"We think it's a land grab," Wagner said. "If we have a 30 percent market share, it's going to be very difficult for any other competitor to come into that market and start from zero. This year is all about city expansion."
The company's first target this year: San Francisco. Wagner said the city is a good second market because he's already identified real estate brokers interested in hiring Walkthrough to do home scans. Plus, he can combine fundraising and sales trips.
Walkthrough disclosed its raise in an SEC filing Jan. 13. Wagner said the company will keep its round open until the end of February and is still courting investors.
Wagner, who started buying rental properties two years ago, got the idea for Walkthrough last April after a real estate broker friend complained about spending too much time driving to homes and too little time showing them. At the time, Wagner had become a regular at informal meetups for virtual reality enthusiasts and he couldn't help seeing a potential solution to cut travel time.
"You shouldn't be driving more than two hours just to see a house for less than 10 minutes," Wagner said.
Wagner and co-founder Jeremy Thiesen launched Walkthrough last spring, investing $50,000 to cover equipment and other startup costs. It started earning revenue in July, Wagner said, and has mapped more than 400 Denver-area houses, plus a handful in Austin.
Its most profitable month to date was December, he told investors, when the startup had sales of $8,000. Wagner estimates Walkthrough will break even in the second quarter of 2017.
The startup uses a 3-D scanning technology called Lidar to take several scans of the same room and then overlay the scans.
The final product can feel lifelike: during one tour filmed by Walkthrough, a man walks into the virtual bathroom and lounges in a virtual bathtub.
For now, the business makes money like a home photography service. For a flat fee of $150, Walkthrough will take drone shots, still photographs and create a virtual tour. Wagner said Walkthrough profits off each listing, in part because it has automated the flight of its drone and prepared software that can adjust the color and lighting for large batches of photographs, which saves labor costs.
The next tool Walkthrough is trying to build is a robot – Wagner describes the idea as a Roomba vacuum cleaner with a tripod on top of it – that can photograph and scan each room on autopilot.
Wagner thinks scanning and photography fees will one day be a fraction of the company's revenue.
That's because Walkthrough is developing a feature lets homebuyers swap in furniture, try out a new wall color or replace flooring and countertops. One day, Wagner said, Walkthrough could charge housewares companies a fee to include their products in Walkthrough tours.
For now, Walkthrough doesn't have much physical floor space to itself: the startup shares an office with Techstars Boulder grads Maxwell and Pana at 1624 Market St.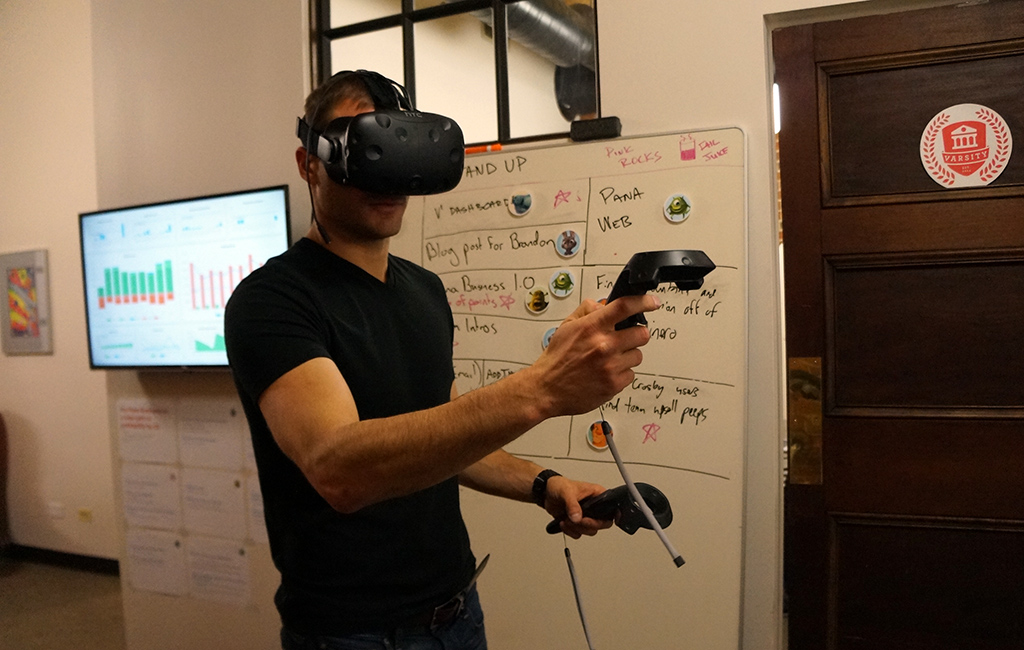 14236