A turn-of-the-century mansion built by a Denver businessman and beer baron is on the market in Capitol Hill for $3.5 million.
The Classical Revival brick-and-stone house on the corner of Seventh Avenue and Clarkson Street was built by Adolph Zang, a Louisville transplant whose Zang Brewing Company was said to be unrivaled west of the Mississippi in its pre-Prohibition heyday.
More recently, 709 Clarkson St. was the office of Rod Greiner, an entrepreneur and philanthropist who opened the mansion to public tours, lecture series and local businesses. Greiner died in October at 86.
Real estate agents Mary Rae and Rene Plourde of Distinctive Properties listed the property Jan. 3.
"My whole career has been selling mansions, starting in the 1970s, and nothing is like this mansion," said Rae, who worked with Greiner when he bought the 37-room house for $320,000 in 1977. "It's a grand, grand mansion," she said.
It takes a grand fortune to build a grand mansion.
Adolph Zang was born and educated in Louisville, Kentucky before moving with his wife to Denver in 1859. He promptly bought the Rocky Mountain Brewery and renamed it Zang Brewing Company.
But it was Zang's mining fortune, not his brewing operations, that would fund his dream home in 1905. The mansion took three years to build, Rae said, costing a total of $108,000 ($2.5 million in today's dollars). It had just the fourth telephone number in Denver.
The 13,100-square-foot house includes original details, like windows by the same artist that painted St. Patrick's Cathedral in New York City and a two-century-old mahogany grandfather clock that Zang imported from London, according to the property's successful 1977 bid for National Historic Landmark status.
The original woodwork rivals a forestry guide: Golden oak in the entryway and quarter-sawed oak in the dining room, mahogany in the ladies' sitting room and birch in the men's, Georgian yellow pine in what was once a kitchen and cherry in the breakfast nook.
The dining room is especially ornate, with a Tiffany lamp hanging from a gold leaf ceiling above the original 26-person table. The whole room is wrapped in a painted tapestry.
Today the house is used as offices, said listing broker Rae, but could easily become a residence once again.
Zang sold the brewing business before the turn of the century and would go on to found a real estate development firm in Denver, as well as insurance and banking companies.
The brewery, meanwhile, shuttered for good in 1927 with the passage of state prohibition laws, according to Zang Mansion's National Historic Landmark application. It was later destroyed in a series of fires, leaving the Zang Mansion as the only structure in Denver bearing Zang's name.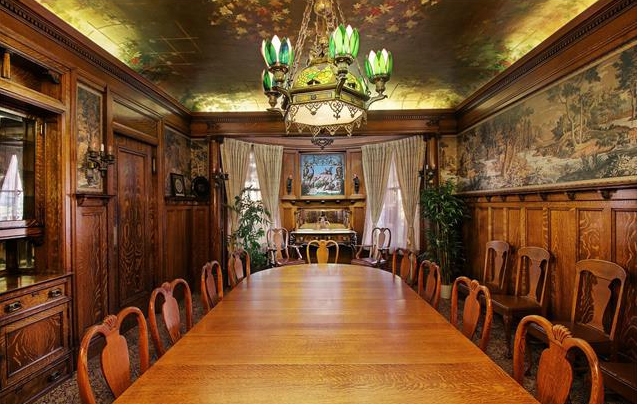 14011