A beer industry veteran wants to put your favorite neighborhood brewery's product on tap at bars around the city.
New York native Tom Jasko has opened Colorado Craft Distributors in a 6,000-square-foot warehouse near Second Avenue and Yuma Street. He thinks there's a gap in the distribution market for small breweries that don't make enough beer for hundreds of bars and retailers.
"Colorado is a massive state," he said. "And the distribution options here are kind of limited."
Jasko, 36, co-owns the company with two partners. They began toting beers around to bars and liquor stores last month, and handle distribution for a handful of Front Range breweries.
Jasko joined the beer business since 2000, working at Union Beer Distributors in New York as a merchandiser. By 25, he said he oversaw a team of eight sales reps covering more than 1,000 Manhattan bars.
He moved to Colorado in 2008 and last worked as a regional manager for beer importer Marchant du Vin, but Jasko got the idea for Colorado Craft Distributors from three former trainees back in New York.
Jasko's former co-workers launched wholesaler Sarene Distributors about three years ago. Jasko said business took off, and as it looked for a second operation covering Connecticut, he approached the Sarene Distributors team about opening an outfit in Denver.
"It got to the point where it wasn't a joke anymore after a few conversations," Jasko said.
In fall 2015, Jasko returned to New York to tour Sarene's warehouses, get a handle on business operations, and watch his Mets play in the World Series. He brought on Sarene's team as consultants to help put together the pieces for his own business.
Jasko is targeting breweries along the Front Range that don't make enough beer to supply hundreds of bars and retail stores. He thinks he can help brands that don't yet serve beer outside of their taprooms, or breweries running all over town to deliver their own beers to restaurants.
"It's a lot of work trying to make beer while also getting your beers out to other on- and off-premise accounts," he said.
Colorado Craft Distributors' roster includes Lost Highway Brewing Co., Caution Brewing Co. and De Steeg Brewing in the Denver area, as well as Jessup Farm and Horse & Dragon breweries in Fort Collins.
Jasko said he's not looking to bring in new breweries from a wider geographic range, because there's plenty of work in Denver and other nearby cities.
There's hardly a brewery too small for Colorado Craft Distributors to work with, but the company can't quite handle breweries ready to flood all of Colorado with their beers.
"We just have to have similar expectations, it has to be manageable for both ends," Jasko said. "We can't provide service to the Western Slope right now, and we don't go south of Colorado Springs."
Colorado Craft Distributors enters the distribution business right as a big-time local craft distributor has left. Breakthru Beverage of Colorado acquired craft beer distributor C.R. Goodman last fall.
C.R. Goodman's portfolio was headlined by craft beer mainstays like Stone Brewing Co., Dogfish Head and Boulevard Brewing Co. Jasko knew he wasn't going to scoop Goodman's local clients, which also included Left Hand and Upslope brewing companies.
But he thinks he could score small players who might have been able to work with C.R. Goodman, but aren't ready to supply the larger Breakthru Beverage Group.
"Immediately we thought about if we would have a chance to represent any of [C.R. Goodman's] breweries, and the quick answer was 'no.'" he said. "It could be an opportunity for us, but for a different reason than you might think."
Less than a month into the business, Jasko said he's getting out "some kegs here and there, and some cases in between." But he looks to ramp up quickly. The two-person shop is hiring a sales rep and a driver soon, and hopes to distribute 50,000 cases of beer by the end of next year.
Colorado Craft Distributors has a five-year lease with extension options on its warehouse. Jasko isn't sure if he'll outgrow the space in a decade or not.
Jasko said one of his clients, De Steeg Brewing Co., boasts of being Denver's smallest microbrewery. And at the moment, Colorado Craft Distributors might be its smallest wholesaler.
But neither plan to keep that tag forever.
"His platform is that we'll grow together," Jasko said. "And that's kind of where we are with everyone we represent."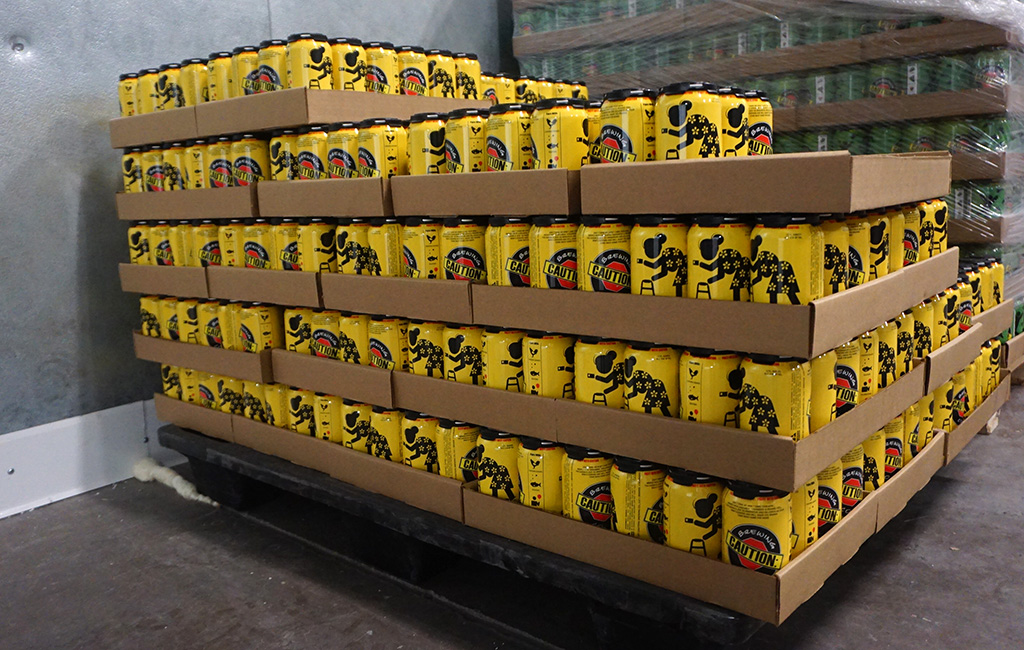 13799