Some cyclists actually enjoy riding on gravel.
At least that's what Chris Sugai, owner of bike manufacturer Niner in Fort Collins, is planning to cash in on after announcing his second line of gravel bikes this week, improving upon his previous design from 2013.
"It's just ongoing refinement," Sugai said. "They are lighter, they are stronger, and they have better handling characteristics."
The appeal for gravel biking, he says, is for cyclists to escape the hassle of riding on busy roads.
"One of the primary reasons is traffic," said Sugai. "The amount of times you come up against a car is few and far between."
Sugai's gravel bike, a cross between a mountain bike and road bike, is light enough for long endurance rides on gravel or dirt, but durable enough to hit single-track trails as well.
The new bike's primary feature is a carbon fiber frame, making the bike lighter and stronger than its aluminum alloy predecessor. The newest model includes electronic gear shifting, as well as design improvements for better control and steering. The material in the carbon frame also improved the balance in shock absorption, so riders still experience a smooth ride without deadening the impact too much, according to Sugai.
The bike varies in price between $3,000 and $8,800, depending on a buyer's preference of tires, breaks, shifters and other components.
While gravel biking is not new, the sport has seen a resurgence in the last five years, Sugai said. In the early days of the Tour de France, cyclists were riding this style of bike because the course was not completely paved. Now, more cyclists want a bike that does not sacrifice a light frame for versatility on gravel, dirt, pavement and single track. Sugai estimates the firm will sell 3,000 new models this year.
"We've come out with a very light bike that meets mountain bike standards," Sugai said. He declined to say how many of the previous gravel model have sold since 2013.
Sugai, originally from Los Angeles, owned a window-tinting business before making a drastic career change in 2005. As an enthusiastic mountain biker, Sugai realized he would rather own a business doing something no one had to pay him for on a Saturday, so he started designing 29-inch mountain bikes and selling them.
Niner claimed $15 million in sales last year, Sugai said. The company sells bikes to 400 shops nationwide, and also sells to international distributors in 56 countries. Sugai said 35 percent of the business is international, with Europe being the most popular market.
"The European bike market is about six times larger than the United States," said Sugai.
Niner moved its headquarters last year from California to Fort Collins–in a 39,000-square-foot building at 2330 E. Prospect Road. Sugai said he wanted to relocate to a bike-friendly and more affordable city. The bikes are made at factories in China, Taiwan and Vietnam. Niner has 25 employees in Fort Collins and 15 in Los Angeles.
Sugai said Niner's competitors for gravel bikes include the bigger bike companies, such as Trek and Specialized. Niner's advantage, he added, is its concentration on highly specific features for its 12 models of gravel, mountain, cross-country and cyclocross bikes, versus spreading thin by producing thousands of models. Sugai named Yeti as one of Niner's local Colorado competitors, but Yeti does not manufacture or sell gravel bikes.
Looking to the future, Sugai's main challenge will be the changing currency, as he continues to sell to an international market. As the dollar gets stronger, it will be difficult to keep the price of his bikes reasonable for his distributors all across the globe.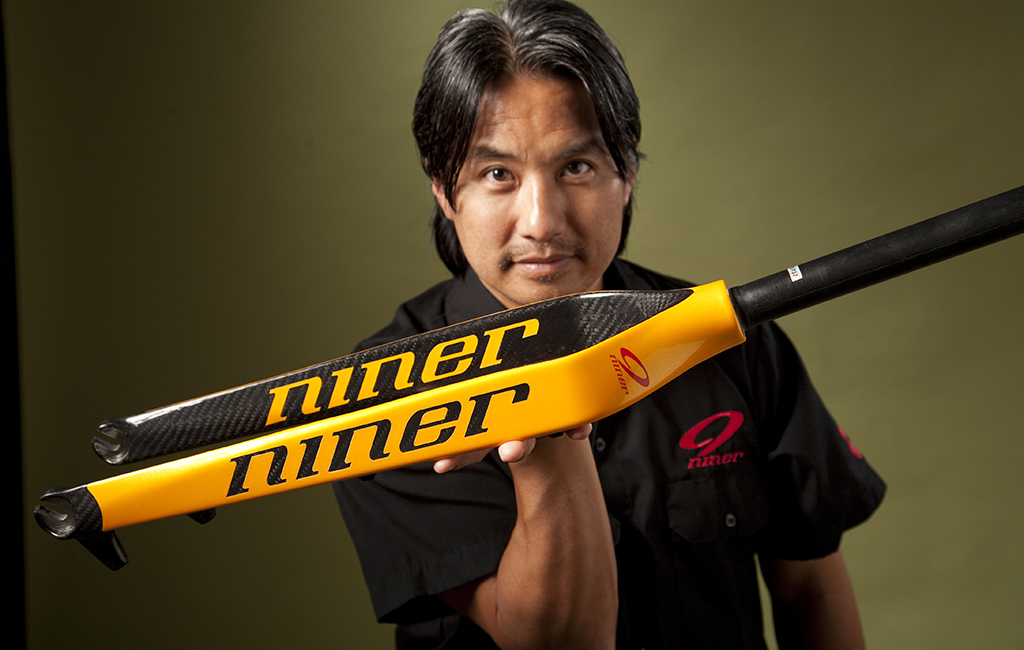 13773