For the second time in as many years, a Fort Collins beard oil brand is tangling with a competitor.
In a lawsuit filed in U.S. District Court in Denver, Gib's Grooming accused Nevada startup Gibson's Beard Care of using "confusingly similar" packaging for its beard oils and balms.
The complaint includes a photo of Gib's "Bush Master" beard, hair and tattoo oil, which comes in a 1-fluid-ounce bottle with a dark red label, alongside Gibson's "One Bad Ass Beard" oil.
"Gibson's sells beard oil in product packaging that has the same design and look and feel as the Gib's Trade Dress," including "irreverent or edgy product names" as well as similar color schemes bottle shapes, Gib's Grooming said in a complaint, filed Dec. 20.
Gib's Grooming, which has sold men's soaps, shave gels and hair products since 2014, is seeking a court order preventing Gibson's from using its current packages and branding, as well as monetary awards to make up for Gib's lost profits, damages and legal costs.
This is not Gib's first brush with trademark law.
Gib's Grooming just spent nine months sparring with Minnesota men's beauty product distributor Man Stuff, which sent Gib's a cease-and-desist letter telling the Fort Collins brand to stop using the phrase "man wash" in its products.
Gib's bristled, replied with a complaint of its own and, in July, cut a deal with Man Cave to dismiss the case.
The founders of Gib's Grooming are longtime Fort Collins entrepreneurs with a taste for bagels, beauty products and beards.
Brian "Gib" Long opened Gib's New York Bagels in Fort Collins in 1994. Long sold the bagel business to Mike Howland in 2008 and, after briefly selling hair products for women, started Gib's Grooming with Howland as his co-founder in 2014.
Gib's Grooming products include not just beard oils and balms, but also hairspray, body wash, shaving gel, razors and hair glue meant to keep mustaches and mohawks in place.
Neither Long nor Howland could be reached for comment.
Gib's Grooming, which filed its lawsuit under the name Gib's Distribution, LLC, owns two U.S. trademarks for the word "Gibs" and a design with the phrase "Gibs Guys into Beard Stuff" for men's grooming products, according to the complaint.
In its lawsuit, the beauty brand argues that it has "common law trade dress rights" that cover its packaging and label design.
"Gib's packaging is unique because it departs from the industry standard beard oil product packaging, which consists of a glass bottle with dropper caps or orifice reducers," the lawsuit reads.
Reached by phone, Gibson's Beard Care owner Scott Gibson said he made sure his logo and label were distinct from Gib's Grooming before he started selling his beard oil at farmer's markets in Las Vegas three months ago.
"My logo looks nothing like theirs. My labels don't look anything like theirs," he said. As for the bottle, "I wanted to be different than 99 percent of all the other companies that use the droppers, because they're messy."
Gib's Grooming is being represented by Ian L. Saffer and Kathryn L. Bohmann of law firm Swanson & Bratschun in Littleton. Bohmann declined to comment.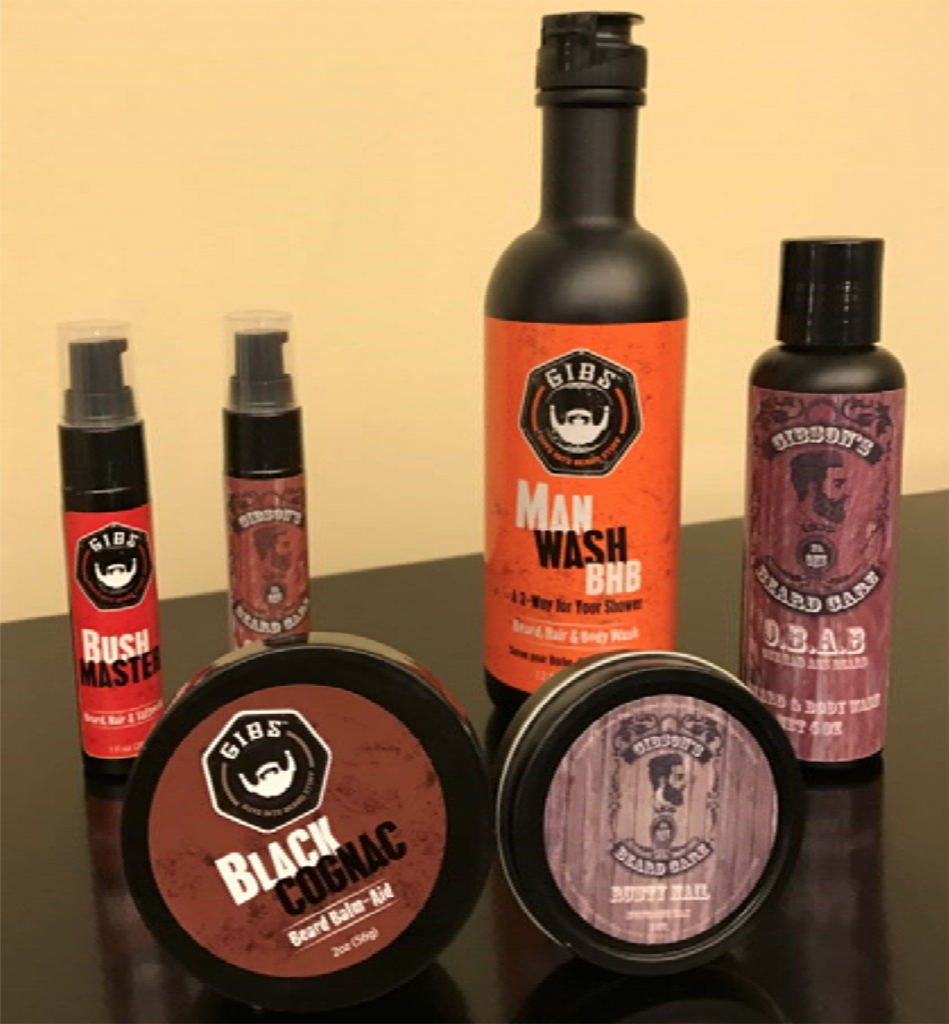 13387